2023 has been a busy offshore wind auction year worldwide with more than 10 lease auctions and five support and offtake auctions – but 2024 will be the busiest year so far in offshore wind history.
The first half of 2023 has been buzzing with offshore wind auction announcements worldwide. This has cooled down during the summer, and recently we've only seen a few new auctions announced, with some being pushed to next year:
Europe
2023 has been dominated by Northern Europe – both mature markets such as Germany and the UK and newcomers like Norway, Lithuania and Estonia.
Finland, Ireland and Portugal have plans for auction before the end of this year, while other auctions originally scheduled for 2023, such as Lithuania's second auction, have been pushed to 2024.
It is a year of many firsts: Germany's new framework with dynamic auctions and lease bidding was used for the first time, Norway is underway with the largest floating wind auction to date (1.5 GW), and UK failed to attract any offshore wind projects in their CfD auction.
Americas
In the US, 2023 has been a busy PPA auction year, with kick-off in three different east coast states.
US' only lease auction in 2023 took place in the Gulf of Mexico and resulted in only one of three areas being awarded after just two bidding rounds.
Colombia is looking into launching an allocation of seabed rights, potentially within the next couple of months.
Asia-Pacific
South Korea launched a 1.5 GW PPA auction for offshore wind, which is the country's first offtake auction with reserved capacity for offshore wind.
Australia opened license application windows for projects in two gigascale-sized zones, where we are still waiting for the results.
India's first auction, which was announced to take place in 2023 or 2024, now has a specific start date set to February next year for four Tamil Nadu sites.
2030 is a popular year for offshore wind targets, so the next two years will be critical for governments to meet their goals. Europe alone targets to have 300 GW of offshore wind capacity operating by mid-century, meaning next year and 2025 will be packed with auctions, with 2024 alone having the potential to see almost 50 GW awarded.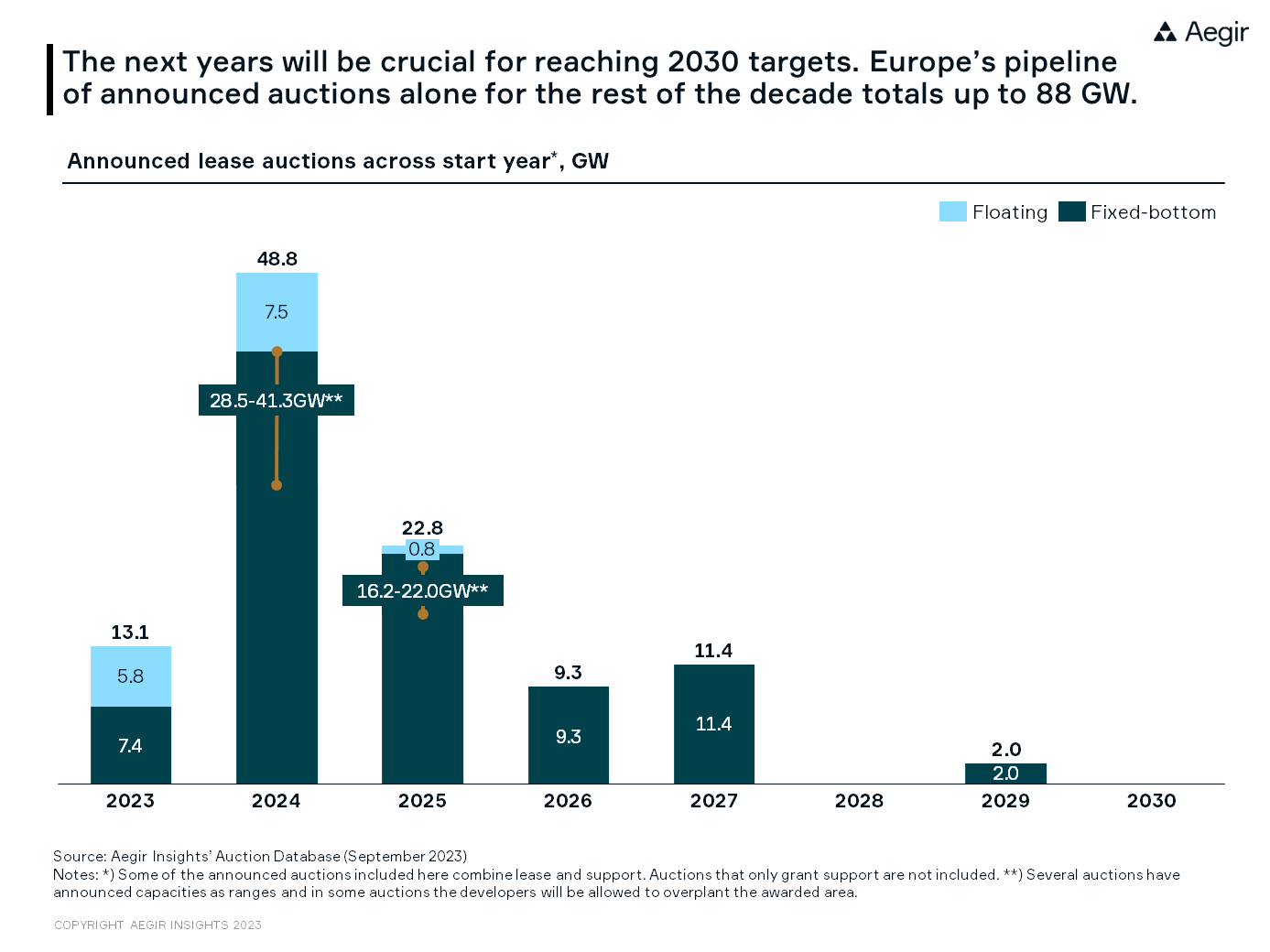 Aegir Insights Auction Intelligence
Do you want to keep up to date on the many offshore wind auctions worldwide?
Aegir Insights recently released an updated Auction Database to subscribing clients which provides an overview of coming and past offshore wind auctions, covering auction criteria, timing, project size and much more for both fixed-bottom and floating offshore wind.
Reach out to us here to learn more about our auction intelligence package.