'A major blow' or 'actually a good thing'? Maria Holm Bohsen distills down the outcome of the offshore wind no-show at Britain's latest renewables auction and what might happen next
What's the news?
The UK held its latest renewable energy auction, AR (allocation round) 5, earlier this month. Solar, onshore wind and tidal did well from it, winning a total of 3.7GW of Contracts for Difference (CfDs), but no offshore wind was awarded as – for the first time in ten years – no developers bid for acreage.
What's the backstory?
Despite repeated industry warnings that the £44/MWh ($55/MWh) ceiling set for the strike price in AR5 was unachievable in the current volatile global economic climate – and after Swedish offshore wind pacesetter Vattenfall iced its 1.4GW Norfolk Boreas project as having 'become' unviable since landing a CfD last year – the government continue to turn a deaf ear. The almost foregone conclusion came on 8 September, with a boycott by offshore wind developers. At a time when governing Conservatives were counting on the sector upping its game to reach ambitious build-out targets off the UK, the no-show could put the goal of having 50GW turning by 2030 out of reach.
What does this mean for UK offshore wind?
Past allocation rounds using Britain's highly regarded CfD model had been part of a growing success story, ever-lower strike prices and ever-higher capacity volumes awarded – from 1.2GW at £114-120/MWh ($142-150/MWh) in 2014 to 7GW at £37/MWh in 2022 – and the latter including a first CfD for floating wind, 32MW at £87/MWh (all in 2012 prices). In the process, the UK built out the second largest offshore wind fleet in the world, with 15GW generating, 8GW under construction, and 6.5GW with a potential route to market via CfD.
With the zombie offshore wind auction in AR5, Britain faces a major challenge in closing a 20GW gap in project awards to stay on track to reach that goal – and only six years to do so.​ There is also the matter of no floating wind CfDs being allocated in AR5 – a potentially serious set-back for a sector trying to make the leap from pilots to gigascale arrays.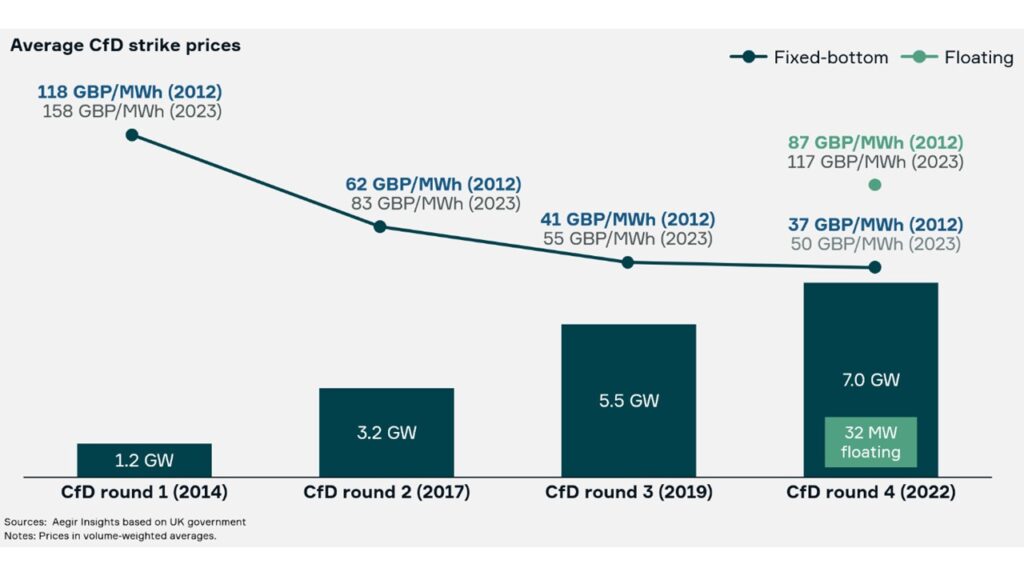 What's been the response?
Many of the first statements out of industry decried the no-bid offshore wind auction in terms similar to that used by Siemens Gamesa CEO Jochen Eickholt, who called it a "major blow" to the UK sector – that also suggested Britain was "losing its leadership position in offshore wind". But there were dissenting voices echoing consultancy Snow CEO Jerome Guillet's belief that Britain's auction results were "actually a good thing, in that it reflects cost discipline, and proves that the tariff design is smart in that it avoids crazy bids like we have seen in other [international] markets". Still other industry influencers expressed the view that this was overdue pushback, a "wake up call" for a jug-eared UK energy department, and salutary for an industry being forced into a "race to the bottom".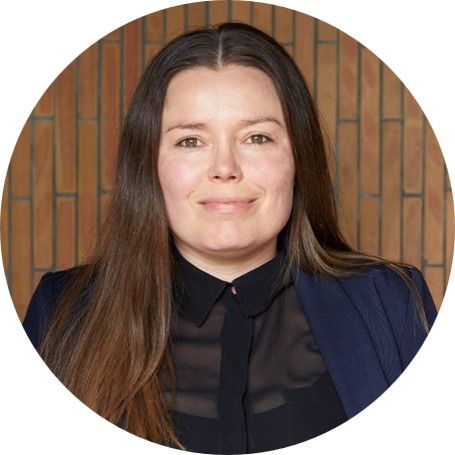 'Offshore wind developers' no-show of this year's auction sends a clarion signal to Westminster of the need for radical change'

Maria Holm Bohsen
Director, Head of Research
Aegir Insights

What now?
The result of Britain's latest offshore wind auction – which lay bare most of all that the UK's current regulatory and policy framework is disconnected from present-day macroeconomic realities and supply chain travails – has wider implications for the UK, which was counting on offshore wind as an engine of its net-zero strategy – and North Sea industrial transition plans. So what does the government do? The first option is to wait for the AR6 – applications for which are due in a few months – rethinking the strike-price around fresh generation cost data, real-life market conditions, new-model support policy, as well as technology specific factors, to create more reasonable bidding levels.
What solutions could work?
Offshore wind developers' no-show of this year's auction sends a clarion signal to Westminster of the need for radical change. The AR6 auction will be existentially decisive for Britain's offshore wind in how healthily it evolves over the remainder of the decade and into the 2030s. The inescapable reality is that without a significant volume awarded next year, the UK risks slipping down the European table behind Germany, which has a 16GW auction slated in the next three years, and the aim of bringing 70GW of offshore wind online by 2045. In short, setting out a suitably sized budget and a realistic CfD ceiling should be top priorities for the UK between now and March next year, when the next round is to be announced. Or as Dan McGrail, CEO of industry advocacy body RenewableUK, posted on LinkedIn on the day: "1) Get the design for the next auction right, with sensible and sustainable prices. 2) Publish the design quickly [and] 3) Ensure it is big enough to make up the lost ground."
For the UK's 50GW by 2030 objective not to recede beyond the horizon – and with it billions of pounds in economic development along the coasts of Scotland, England, Wales and Ireland, 'listening' to the offshore wind industry's concerns has to rapidly translate into concrete action that answers the cold light of day realities that AR5 has forced it to face.
Do you want to keep up to date on the many offshore wind auctions coming around the world – what will the volumes be and when are the auctions starting? Aegir Insights releases a monthly auction intelligence package for subscribers, including an updated auction database and timeline. Reach out to us to learn more about our intelligence offerings.
---
This article was first published in Aegir Insights' intelligence newsletter, Beaufort.
Delivered straight to your inbox every Sunday, Beaufort will sharpen your market insight for the week ahead with exclusive commentary, analysis, and in-depth journalism delving into the talking points and technologies shaping offshore wind.
---