Though the recent icing of the 1GW Trollvind project off Norway was seen by some as a set-back for the sector and the idea of using floating wind to 'green' oil & gas operations, the scalable flexibility of the technology could soon make it a factotum for the wider offshore energy transition
By Darius Snieckus
The floating wind sector's dramatic transformation over the last 15 years from single prototype to first industrial arrays and now a multi-hundred-gigawatt pipeline of projects heading for construction around the world has always hinged on pure-play economies of scale: ever-larger turbines on intelligently engineered, mass-manufactured steel and concrete platforms, producing power to the grid at an increasingly competitive levelized cost of energy.
But as the global fleet envisioned for major maritime provinces tops 300GW, it may be the technology's roots in oil & gas that gives a horizon-expanding view to the part it might play in the offshore energy transition beyond flowing green power to shore, including for aquaculture farms and coastal desalination plants.
The first floating wind turbine, the 2.3MW Hywind 1, switched on by Statoil (now Equinor) in 2008 off Norway, was in fact born in a back-of-envelope sketch as an ancillary power source – to cut gas-fired generation on offshore oil complexes. And oil, under growing climate action pressure, is now first in line to test the technology commercially in this emissions reduction role.
Several high profile schemes based on the concept – including the world's largest floating wind array, the 95MW Hywind Tampen (pictured above), which will soon be supplying 33% of power used on the Snorre-Gullfaks oilfield off Norway – are now heading for water, with a first 5GW of leases awarded recently off Scotland to developers Cerulean Winds and Flotation Energy under the so-called INTOG round, the world's first auction dedicated to floating wind-powered offshore oil decarbonization projects.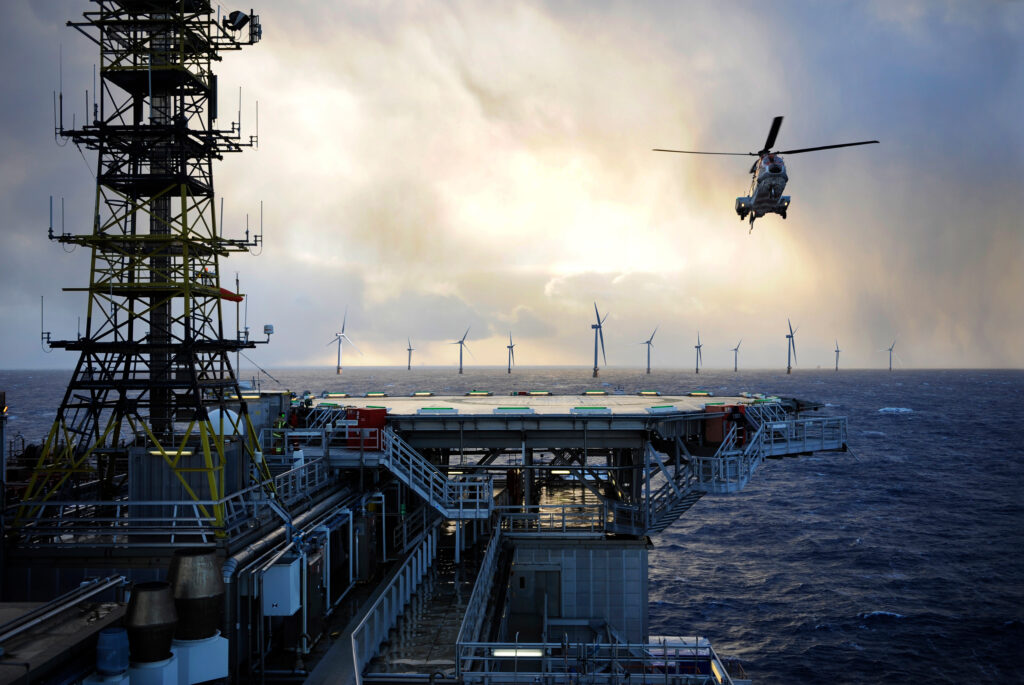 The concept has not been without its detractors – who view it as 'dirtification' of wind power, and Greenpeace called out the INTOG awards as 'tinkering with emissions' – or its setbacks – the 1GW Trollvind project, which was to have electrified operation Norway's ageing Troll and Oseberg oilfields, was iced recently due to ballooning development costs and technology troubles.
"Trollvind has some really strong features [as a power plant] in the region [near Bergen in Western] Norway – and let's be clear, the project is not cancelled, more postponed until we can find a[n economically viable] new life for it," says Siri Espedal Kindem, Equinor's head of renewables in Norway. "There is a need for Trollvind, but we have to redefine what Trollvind is [in the context of the Norwegian North Sea offshore energy network].... And that is in the making. 

Gigascale Trollvind's travails
"Electrification is going to be extremely important to oil & gas operation [across the Norwegian continental shelf] to support our government's ambitious climate goals [including carbon neutrality by 2030].
"I think some were disappointed in our pausing Trollvind 'until a future date' [på ubestemt tid in Norwegian] – because it would have been perfectly timed [to come online in 2027] between Hywind Tampen and what comes after 2030 on the NCS [in the way of oil & gas decarbonization projects]. And this hasn't impacted our belief in floating wind." 
Behind Hywind Tampen there are also smaller offshore oil & gas emissions reductions projects that have also been launched off Norway, including by drilling contractor spin-out Odfjell Oceanwinds and Source Galileo at the Goliat oilfield in the Barents Sea, and the Norwegian government this year is moving to auction off acreage in the deepwater Utsira Nord wind zone that neighbours one of the key oil & gas production hubs in its waters, where other oil-greening projects could materialize.
'Pausing Trollvind hasn't impacted our belief in floating wind'

Siri Kindem, Equinor Head of Renewables, Norway
Meanwhile, across the North Sea off Scotland, Cerulean Winds and partner Frontier Power are advancing $25bn plans for what they describe as a floating wind-powered 3 GW "ring main" that oil platforms could 'plug-in to' to decarbonize operations.
Cerulean – started by two offshore oilmen, Dan Jackson and Mark Dixon – reckons floating wind developments should be approached as an "infrastructure rather than a power production" project and the developer is working with a business model using contractor 'delivery partners' and their local supply chain networks to "manage cost and schedule in real-time" for the North Sea Renewables Grid (NSRG).
"The cost base is only one lever of many in floating wind project economics: we see technology efficiencies increasing and clearer 'scale cost-outs' also moving the economics substantially in the coming years," says Jackson, pointing to changeable factors such as "post-pandemic steel commodity pricing coming down dramatically", which will have a significantly positive impact of capital expenditure by the time the first phase of the NSRG comes online this decade.
"Floating wind benefits from scale and the economics converge with the fixed offshore wind sector when in the gigawatts," he notes. "Indeed, with hundreds of floating wind units in production the supply chain can use automation in a way that the oil & gas business never has, including for foundations which are more akin to shipbuilding than oil & gas."
'Floating wind developments should be approached as infrastructure rather than power production projects'

Dan Jackson, CEO, Cerulean Winds
A win for oil and floating wind
The latest floating wind technology developer to join the oil & gas decarbonization fray is SeaTwirl. The Swedish outfit, which took on sector veteran Johan Sandberg as its CEO earlier this year, recently finalized a deal with Kontiki Winds to develop offshore oil & gas field-connected arrays using its eponymous vertical axis design, with an eye in the longer term on micro-grid projects to power fish farms or coastal desalination plants currently running on fossil fuels.
"I have always believed that the oil & gas industry is a great catalyst market for floating wind technology," says Sandberg, who in 2014, while with classification society DNV, led the pioneering but ultimately star-crossed Win-Win pilot, which aimed to wire floating wind turbines to oil & gas platforms to prove up the technology while running downhole pumps to squeeze production from ageing offshore fields.

"Not just from a floating wind perspective, but also because it ticks a lot of the boxes in oil & gas too. Offshore oil operators can 'dip their toes' in floating wind through electrification of platforms and go on to utility-scale once they feel comfortable with the technology and its operations."
'Oil & gas is a good catalyst for floating wind. Not just from a floating wind perspective, but also because it ticks a lot of the boxes in oil & gas too.'

Johan Sandberg, CEO, SeaTwirl
"And I think we have seen that from the very beginning, with the Hywind 1 through to INTOG and other gigawatt-scale projects now in development.
"Right now, we are seeing the power of the brutal energy crisis driven by energy security and climate change. There is good traction, but I have said for years that we must dare to think big unconventional thoughts to solve it."
The SeaTwirl-Kontiki tie-up could be central to proving up the economics of tailoring arrays to smaller floating projects – in the 100-500MW range – to electrify offshore oil complexes using the former's novel technology, says Sandberg "in order to show non-utility-scale floating wind can be used" for other industrial settings.
"For a technology like ours, we can't go straight in as a 20MW unit, but it's clear that our current small-scale design will have a specific value for non-utility-scale uses. It can provide a steady supply of green power to smaller industrial operations and because the drive-train and generator are the water-level, maintenance can be carried out with existing service vessels, not jacket-ups and crane vessels that cost hundreds of thousands of dollars a day," says Sandberg. "That changes the investment equation.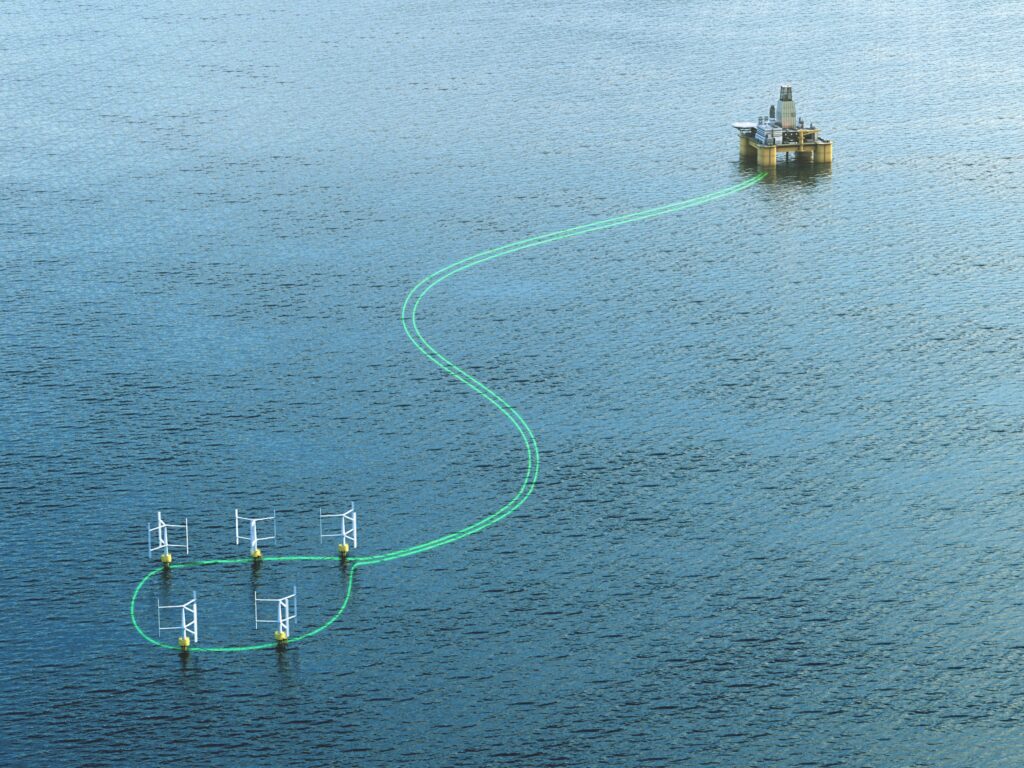 "We are seeing quite a few new, very innovative ideas popping up around the world now as a wide range of new applications for floating [wind], he adds, all of which point to the idea that the technology could become something of a skeleton key for the offshore energy transition, clean power "wherever it is needed".

Right-sizing for ocean energy transition
"There is a gap that we are going to see increasingly between the utility-scale projects made up 100 or more turbines and the much smaller ones – for fish farms or offshore oil complexes or many other applications – and the [latter] can be well served by smaller nameplate floating turbines."
Sandberg acknowledges that it "remains to be seen if attitudes will change", but underlines "disruptive innovation rarely takes place within the established industry players".
Floating wind's rapid, innovation-rich industrial growth over the past ten years means the sector should be well-equipped for the many and varied trials coming with international expansion – "at all scales", he says.
"There weren't a whole lot of people [back then] believing in floating wind in general. At the same time, many believed that oil & gas – somewhat ironically – would be key to floating wind's future.
"Decentralized, easily installed and locally produced power [from a floating wind array] will play a central role in the future energy mix, from oil & gas decarbonization to powering the industries of the [future] blue economy."
---
This article was part of Aegir Insights' intelligence newsletter, Beaufort:
Delivered straight to your inbox every Sunday, Beaufort will sharpen your market insight for the week ahead with exclusive commentary, analysis, and in-depth journalism delving into the talking points and technologies shaping offshore wind.
Sign up for free here.
---