Supercharged growth in the global green hydrogen market is putting wind in the sails of the idea of using moored deepwater turbines as a power source for H2 generation. As the first kilograms flow from a pioneering European project, Matthieu Guesné, CEO of Lhyfe, which has devised the floating electrolyzer for the pilot, talks to Darius Snieckus
The fast-rising hopes being pinned on green hydrogen in the global energy transition has led tens of gigawatts of offshore wind-linked projects being launched for installation in European waters. But with the generation of first actual kilograms of H2 from a seagoing new-model electrolyzer being powered by a floating wind turbine off France, a bigger prize – one already backed by energy giants including TotalEnergies, Orsted, Engie and Acciona – might be hoving into view.
The Sealhyfe unit, devised by technology developer Lhyfe, is now producing steadily connected to a seabed hub at the SEM-REV testing site off Brittany, with electricity flowing from the FloatGen unit wired in at the R&D centres in 2017. A first for the western hemisphere, Matthieu Guesné, Lhyfe's CEO, says the pilot is "a big step forward for the global energy system too".
"Electrification is central to the energy transition but only covers one-third of the energy we consume on a daily basis – we are addicted to oil & gas. So the 'extra' change we need to see is replacing [hydrocarbons] and of course you need huge quantities of energy to replace oil & gas… and this means you need more resources – wind in this case – and a way of harness and storing this [energy]," he states.
"Europe has around eleven times the potential in its offshore wind resource compared to the current electricity consumption so you have the 'right order of magnitude' [to replace current fossil-fueled power production] but you need the technology that will enable it – and we believe our [offshore electrolyzer design] will help do that."
The economics of floating wind-powered green hydrogen is marginal today – cheaper to produce on land first and on conventional fixed offshore wind second – however, Guesné says Lhyfe calculations suggest industrial-scale generation could be running at "about €3-4/kg" by 2035, a figure broadly in line with other sector forecasts.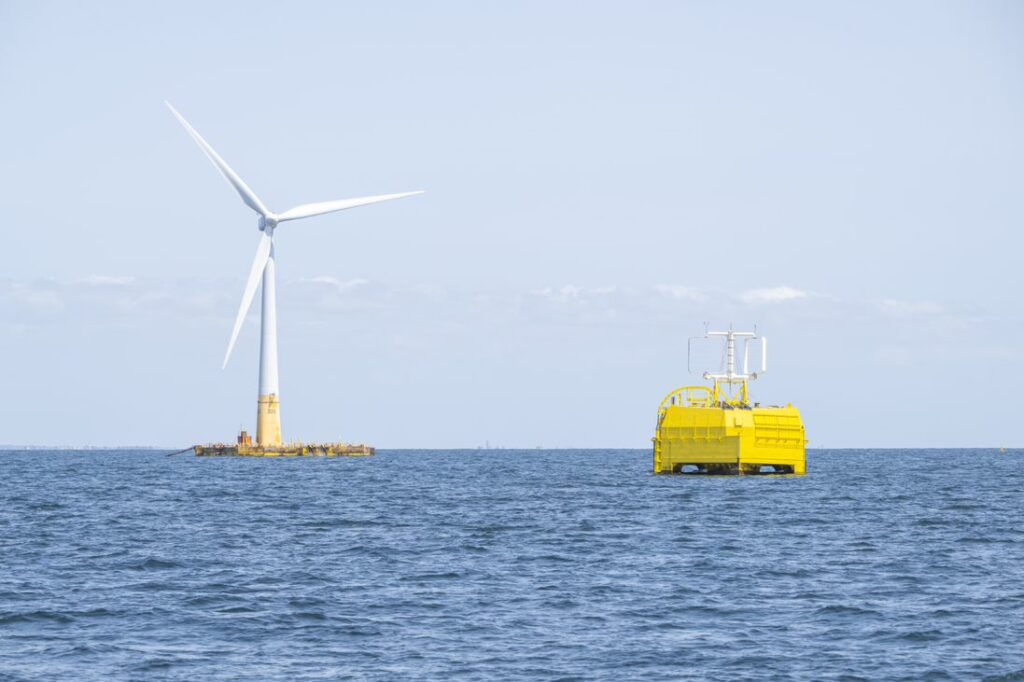 However, he is more bullish than some as to where the cost threshold lies when weighing up the price of a power export line to grid versus hydrogen production offshore for onward tanker transport or use as an e-fuel for green shipping.
Guesné reckons gigascale floating wind-plus-H2 projects as close as 80km off the coast will be economically viable "before long", rather than the 200km-plus distance-from-shore that has become the benchmark forecast by some research.
"In less than ten years green H2 will be far cheaper than grey. With the current references we have today we are talking about €3-4/kg by then."
While cost is king in new energy technology development, Guesné believes the combination of floating wind and hydrogen can answer "something bigger that most every nation's government is now thinking differently about: energy security".
'Clean and sovereign energy model'
Floating wind and hydrogen, he says, can pave the way for "a new clean and sovereign energy model".
"Look around the world: countries want to produce their own energy and what they can't, they will import. And we don't want to repeat the mistakes of the past, such as Europe relying on gas from Russia and elsewhere," says Guesné.
"Think before globalization how our grandparents bought locally, sourced their energy locally, had local jobs. What is the [US] IRA [Inflation Reduction Act] or the EU Green Deal Industrial Plan? These are about building domestic supply chain, creating local jobs…"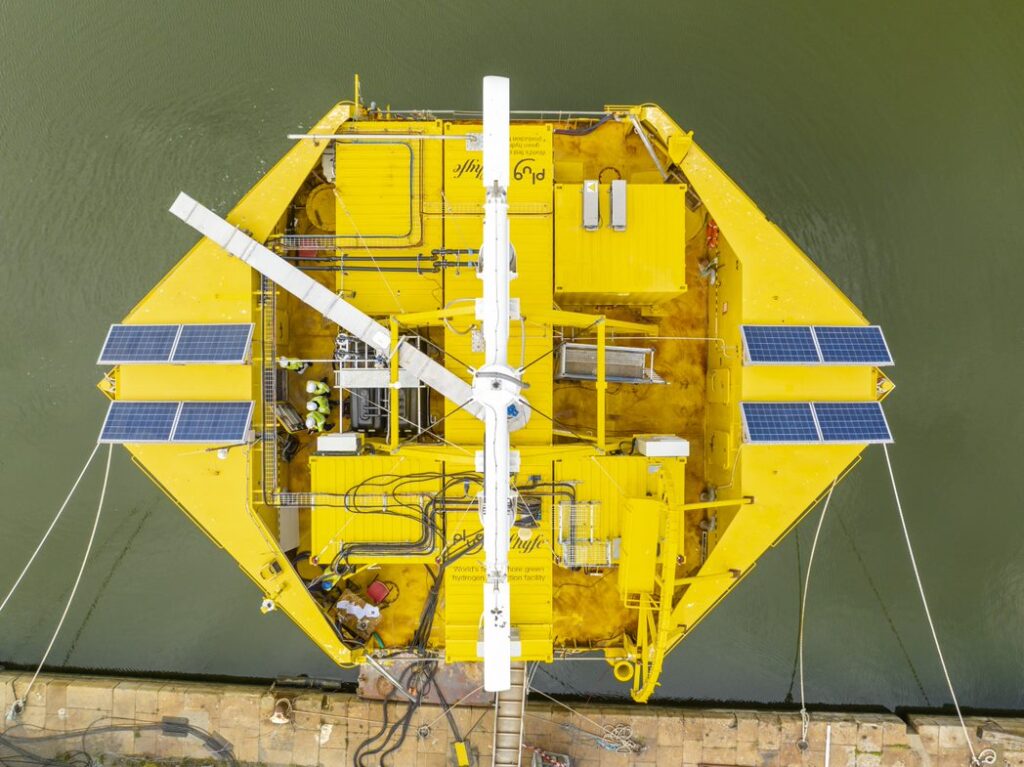 The floating wind-powered 1MW Sealhyfe pilot is currently ramping up to generation of 400kg a day – which is being vented as no pipeline exists for export to shore – with the aim of building experience in the operation ahead of an upcoming 10MW demonstrator, called the Hydrogen Offshore Production for Europe (Hope) project, which will link a next-generation version of its offshore electrolysis unit capable of piping some 4,000kg of hydrogen into Belgium's gas network starting in 2026.
"The [hydrogen] generation is great but what is most important here is that we have developed an industrializable 'stack' [the primary electrochemical component in an electrolysis system] – which will be exactly the same as the one for [the] Hope [project] and then for bigger industrial-scale projects," says Guesné.
With this next project, being built off the port of Ostend backed by partners including Portuguese utility EDPR, he adds, "we will have the economies of scale that will make it possible to [use a pipeline to shore] and allow us to sell the hydrogen into the Belgian system for the first time".
Lhyfe also recently inked a collaboration deal with Spanish developer Capital Energy to engineer offshore renewable hydrogen projects in the Iberia region.
"All the largest economies are investing heavily in hydrogen today –Japan, South Korea and China, most of Europe, the US and the Americas, and these markets also each have a huge potential for deepwater offshore wind power – so there is a real opportunity for hydrogen production in any of these regions," says Guesné.
'The potential is huge'
"We are going to focus on what we see as the quick wins, where there is competitively priced offshore wind – Belgium, the Netherlands, Denmark, German – so we can show at scale, and I mean 600-1,000MW [fixed] wind farms, that our technology can do what we believe it can.
"And then we will let the floating wind industry continue to drive their costs down so that we can open up these [far offshore deep] waters for hydrogen production.
"The potential to be unlocked is huge," he adds.
Though a number of floating wind-powered hydrogen pilots are heading for sea off Europe, the progress being made in new high voltage direct current (HVDC) cabling – with its high-capacity / low-loss transmission potential – is seen by some observers as imperiling the economics of the concept.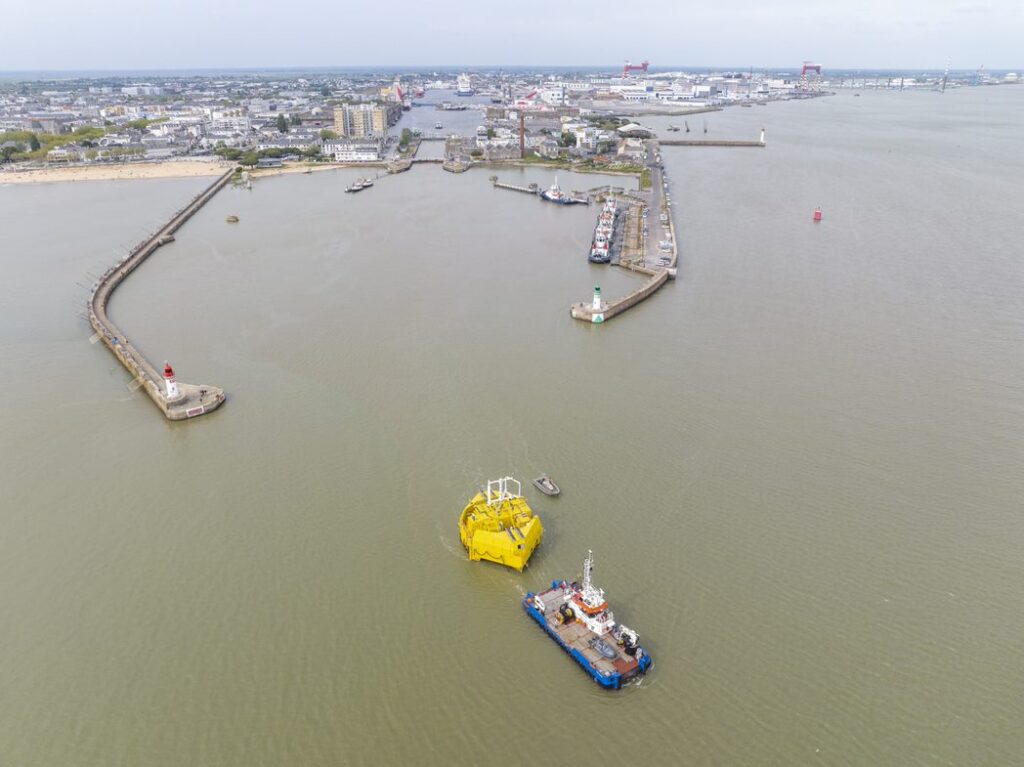 But Guesné is convinced when the technology options for floating wind are set side-by-side, hydrogen generation will have "a big role" to play in the overall decarbonization of the global industrial network.
"Replace all the HVDC systems and interarray cables and long-distance [power] export line with an electrolyzer on an existing [floating wind] platform – and the cost savings is huge. And it is far easier to transport to transport energy as molecules than electrons using a steel pipeline not a power cable.
"Electrification [of all that can be electrified] first, yes. But [energy] storage is necessary, gas is still necessary for some decades, green hydrogen – and huge volumes of it – is needed to replace grey. And the heavy winds over deeper waters is where we can get an almost baseload power [supply] to run electrolyzers very efficiently and low cost."
Five years is a long time in any industry but for floating wind-powered hydrogen, there has been a "generational" change in attitude, says Guesné, nodding to the numerous pilots underway, including the high-profile Salamander, Kincardine and Dolphyn projects off the UK.
"I like to see all these projects progressing because I am not the only talking about the concept anymore," he jokes. "In 2017 when I raised the idea of offshore – or floating – wind plus hydrogen, I was E.T. [the eponymous extraterrestrial from the Steven Spielberg's blockbuster]. Now we have first tenders for offshore wind-hydrogen projects off Europe. Everything is changing fast."
---
This article was part of Aegir Insights' intelligence newsletter, Beaufort:
Delivered straight to your inbox every Sunday, Beaufort will sharpen your market insight for the week ahead with exclusive commentary, analysis, and in-depth journalism delving into the talking points and technologies shaping offshore wind.
Sign up for free here.
---