Ten years ago, Europe's emerging wave power sector was holed by several high-profile technology fails. But with switch-on of a commercialization-minded design from CorPower Ocean its second coming may at last be on the horizon, writes Darius Snieckus
Wave energy – written off by many institutional investors a decade ago after two high-profile technology prototypes failed in the field – looks to be on the verge a second coming with a flagship industrial-scale device now producing power in the Portuguese Atlantic clearing the way for full arrays to be built on a number of key sites off Europe.
Switch-on of CorPower Ocean's grid-connected C4 unit off Aguçadoura marks a major milestone in progress for the Swedish outfit, which has been advancing the 'point absorber' design via the pioneering HiWave5 project, with the focus now shifting to its multi-unit Saiorse development off Ireland, along with other demonstrators off Portugal and Norway and Scotland.
And, in the process, the ocean-riding device – which has come through storms Babet, Aline, Ciarán and Domingos since installation – is reigniting hopes that a first gigawatt of wave power plant will be online by 2035, getting the EU's oars in the water to expand the fleet to reach a target originally set for the end of the decade, and with industrialization, as much as 40GW by 2050.
"I do think that 'tipping' point [into commercialization] is finally coming for wave power," says CorPower Ocean chief Patrik Möller. "We have the field proof [of various technologies] now that can drive the first gigawatts into the water.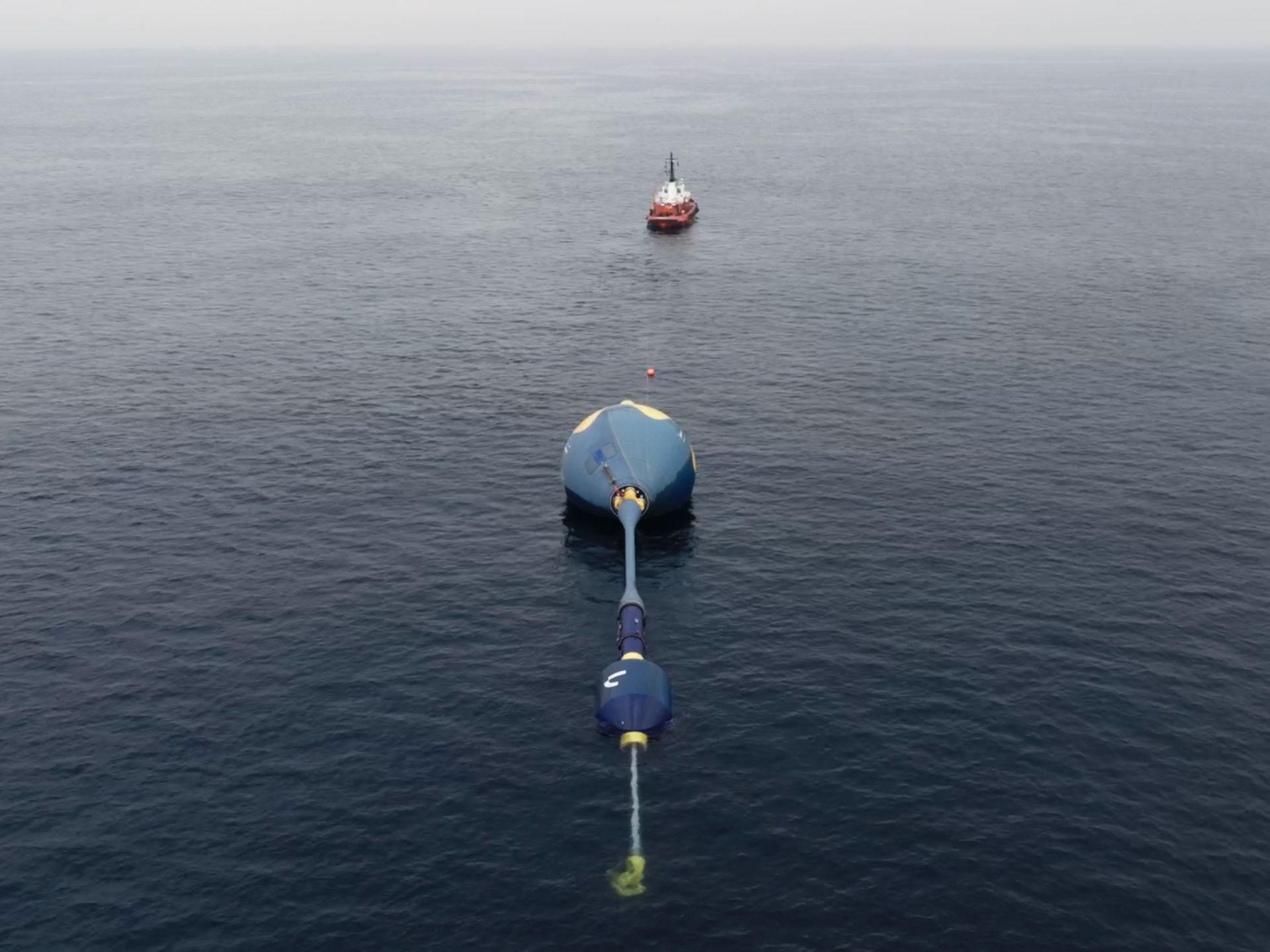 "Most of all we need 10-15 of these next [multi-unit] projects to happen so that we can reap the benefits of all the R&D investments made over the last decades and turn [Europe's] clear technological leadership into global industrial leadership," he says.
"It's critical that [European governments] put in place the support to get these stepping stone projects to financial close – grants or FITs [feed in tariffs] to get to the first gigawatt. From there wave power can become competitive [with other energy sources] based on capture price."
Saoirse 'stepping stone'
The Saoirse project, being built off Ireland with domestic utility ESB and developer Simply Blue – the latter also supporting HiWave, aims to be one of these 'stepping stones' to commercialization for wave power, with a 5MW array of 350kW C4s slated for start-up by 2027-28, expansion to a 30MW plant two years later, and an opportunity for a "several hundred megawatt" array to be built after that, says Möller.
"This is the first [wave power] project where a developer has brought another company's technology [rather than using its own] so that is a big breakthrough too. But we now have multiple European sites being developed, two off Portugal, [and] are eyeing other sites off France, Scotland, Norway, all being advanced with partners. After this "first wave" of arrays, he adds, "will come a second" in the US, where CorPower recently inked a deal with AltaSea to pilot its technology in the Port of Los Angeles in California, and Asia Pacific, where the company is progressing "selected" projects, including off Australia, "a big opportunity that is somewhat overlooked [by many] at the moment".
'Co-location of floating wind and wave power is a particularly exciting area [given] the advantage on the power system level.'

Patrik Möller
CEO
CorPower Ocean
Much as CorPower Ocean is focused on lead-off "pure wave power" sites for its WEC design, a nine-meter diameter, 18-meter-tall composite-and-steel buoy tethered to the seabed that generates based on swell, Möller says its longer view is trained on "colocation with offshore and floating wind farms".
"This is a particularly exciting area, not least because we are seeing bids coming up in auctions [in Europe] that will be combining offshore wind and wave to show the advantage on the power system level", he says.
"[Wind-wave hybridization] should be a huge thing. We hope to be able to piggyback on many of the coming offshore wind developments, and we hope to offer a real advantage to these projects' economics with our WEC clusters – we think you can get a power density of up to 15MW/km2, so you'd only need small strips of our devices [to one side of behind] an offshore wind farm to get the full benefit of the 'complementarity' [of the two technologies' power production profiles]," says Möller.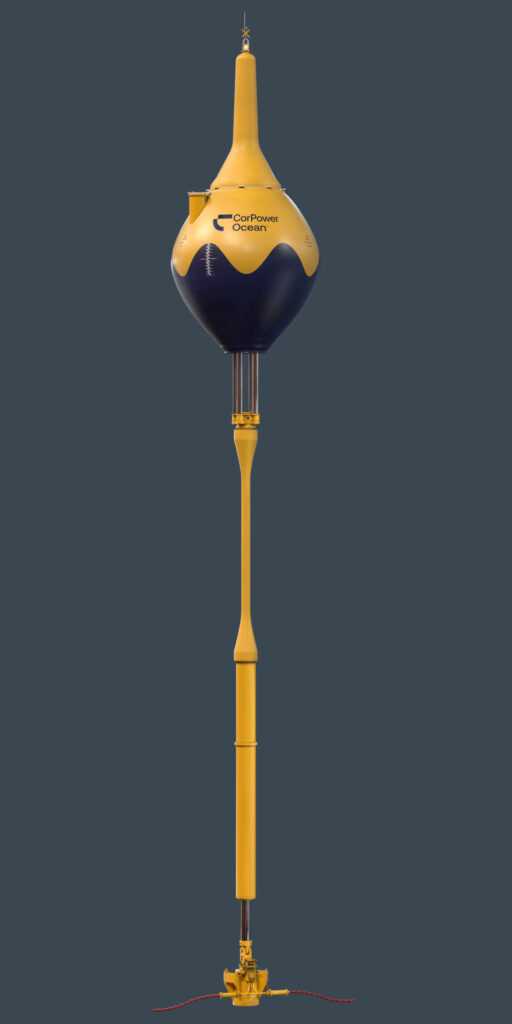 "The most valuable aspect of co-location will be selling power on demand and especially when the market prices are highest. We are moving beyond an LCoE [levelized cost of energy] world to a place where the difference between your capture price versus your project cost is the metric to judge competitiveness [of a technology]."
'Bigger sustainability narrative'
The "more serious" discussions resonating back a decade ago around incorporating WECs into sea-based renewable energy complexes, starting with offshore wind, Möller agrees, speaks to the "bigger sustainability narrative" now being articulated in deployment dialog in many quarters as auctions shift to factor-in more qualitative criteria in their award decisions.
For CorPower Ocean, sustainability should be "more tightly woven" into the industrial development strategies evolving now in the world's maritime sectors, from wind and wave through to the wider emerging blue economy industries.
The next iterations of its WEC (pictured above left), aligned to this rationale, will be built for the Saoirse project with fossil-free steel from SSAB, which uses a hydrogen-powered production process and recycled raw materials at its factory in Sweden.
"The carbon footprint of a renewable energy technology like this, it is our absolute responsibility to drive [sustainability]," says Möller. "Steel is one of the biggest contributors [to life cycle emissions] from offshore energy technologies."
Closer attention is being paid to the operations side of arrays, he adds, looking forward to a day when we have "thousands of devices making up utility-scale farms".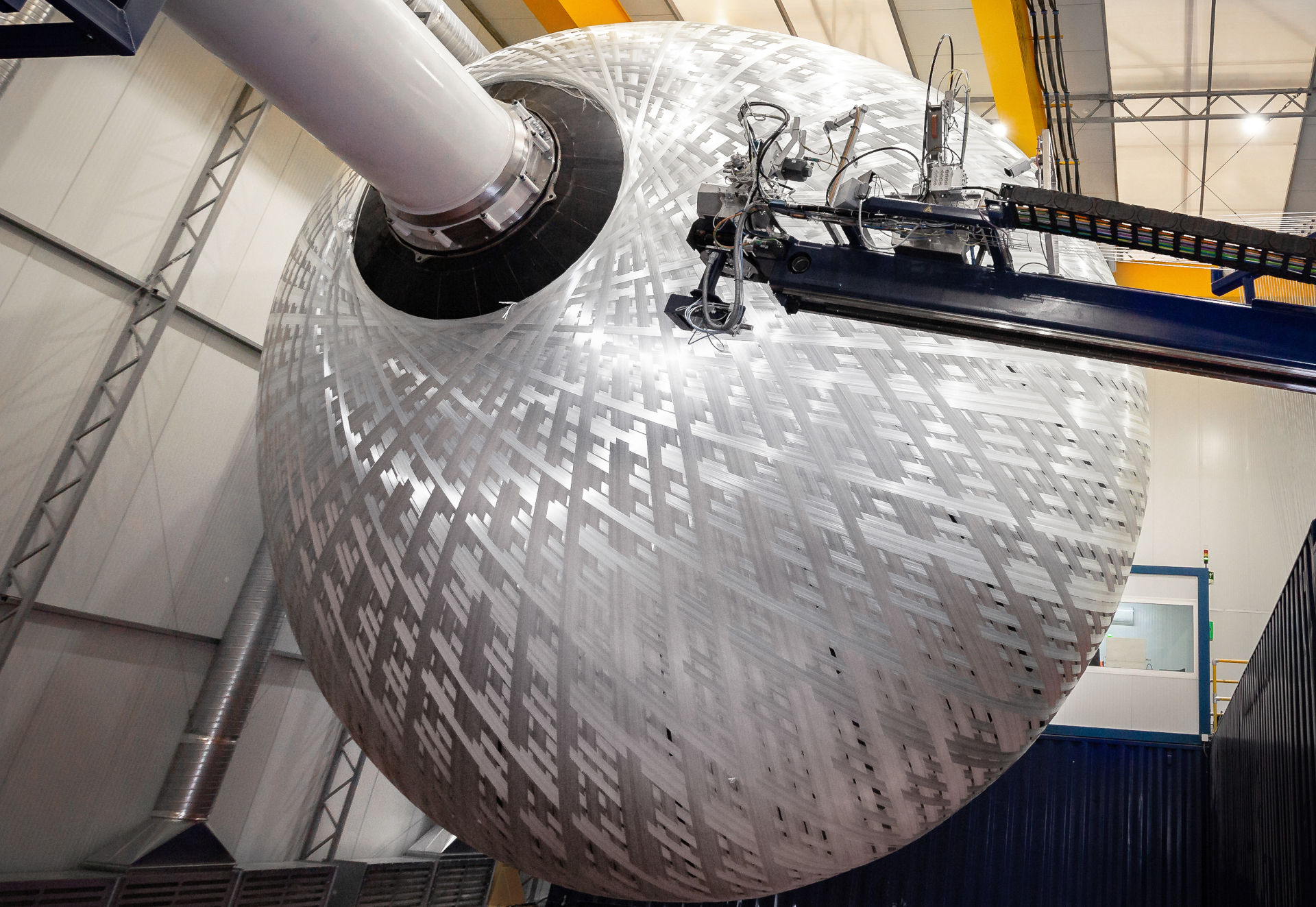 Operating emissions at sea
"People sometimes pretend that the 25-30% of life cycle emissions [from an offshore energy project] related to O&M [operations and maintenance] vessels didn't exist," he states. "Small electric SOVs [service offshore vessels] will work very well with our modular approach to large-scale wave power farms, shuttling back and forth with equipment, rotating out devices for maintenance."
"Clean steel on the capex [capital expenditure] side and electric vessels for the opex [operating expenditure] are the key tools to getting to the lowest impact renewable energy production we can."
Though CorPower and the wider marine renewables sector have seen the ocean energy market horizons broadening in time buoyed by positive recent technology successes, there is no disputing the fact that fewer wave and tidal power projects were installed in European waters in 2022 than any other year in over a decade, leaving the EU's ambitious ocean energy deployment targets unlikely to be reached.
Möller remains optimistic 600-700MW of wave power plant can be operating globally "by 2031" and a first gigawatt "before 2035", however much the industry's voyage out toward commercialization still faces choppy market waters.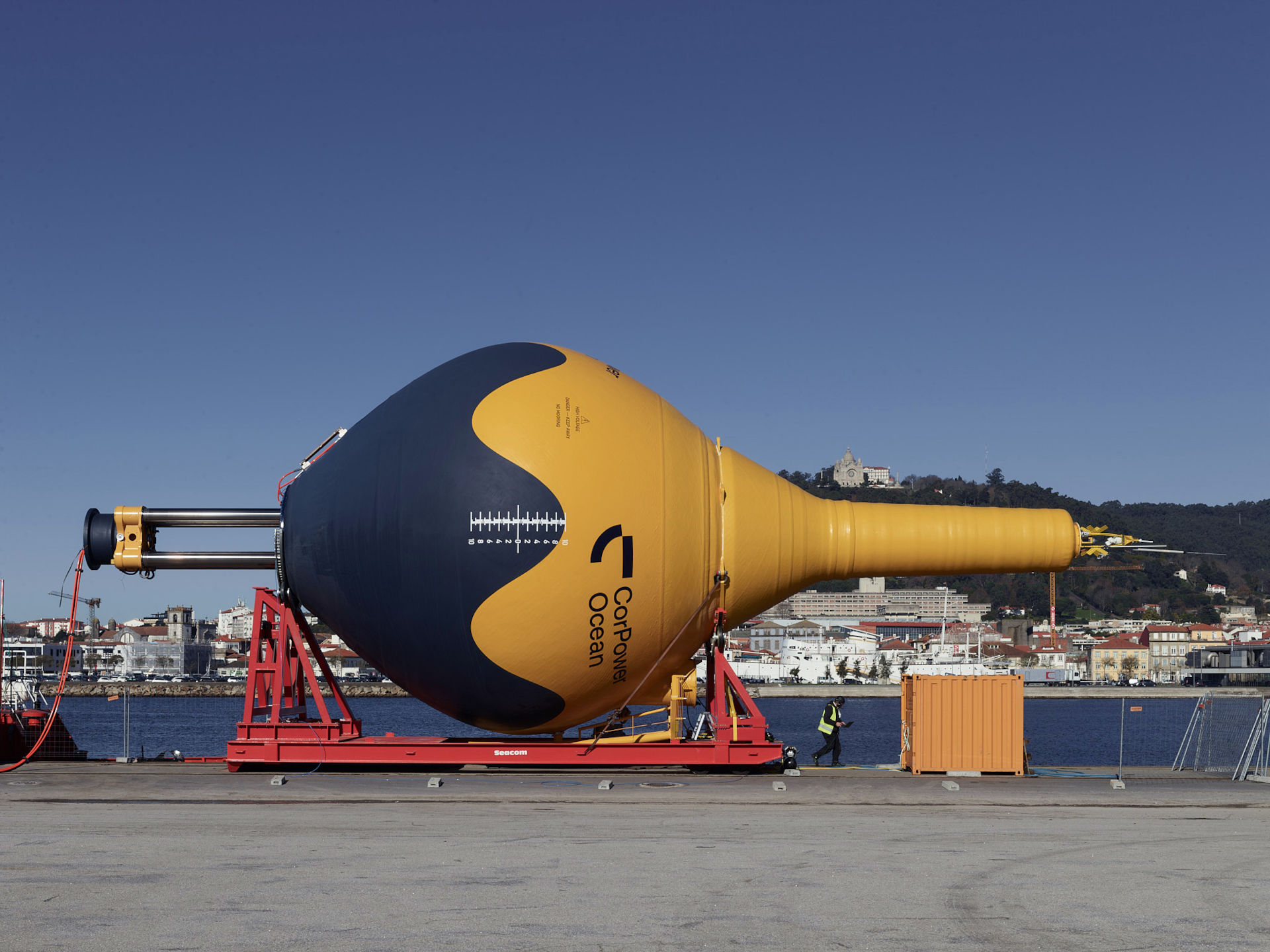 Industry advocacy body Ocean Energy Europe is currently carrying out a detailed resource study, to be published next year, that foresees an "increase" on the current 100GW of marine renewables that could be "practically deployed" in European waters.
"There is every reason to believe, the sector is really set to take off now – a little delayed beyond 2030. But the big risk [to Europe as a wave power pioneer] is that either the US or China take on the bigger investment to achieve the scale-up [of regional fleets] and then suddenly the industry is 'built' there instead of here," he says.
"It is a monumental point in the history of wave power [in Europe] and we must take the decision to move from R&D to true scale-up of the technology."
'World's biggest battery'
"The 'insight' is now more widely appreciated that getting to net-zero and having clean energy production available to our power networks every hour though the year is possibly the biggest challenge in fully decarbonizing electricity and industry and, ultimately, addressing the climate crisis," says Möller.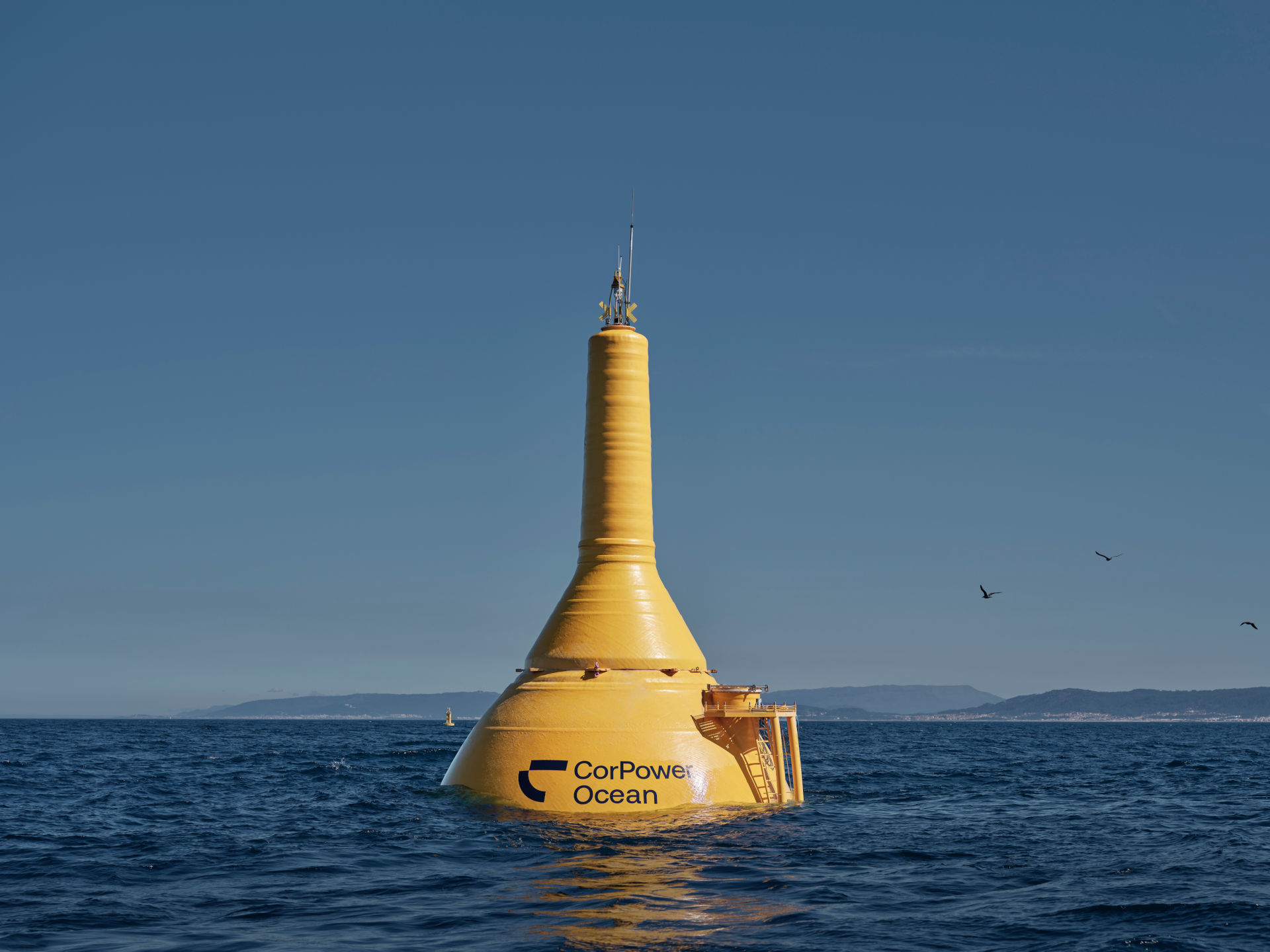 "It is dawning on people – industrial players and policymakers both – that we need something in addition to wind and solar to free ourselves from fossil dependency. Energy storage is going to be key, from [lithium-ion] batteries out, and in the oceans you have what is the largest untapped source of clean energy and the biggest battery on Earth [in one].
"This flexible technology [that can firm and smooth electricity flow in grids] is extremely valuable in 'filling the gap' to create stable [renewables-based] energy systems around the world. We must not miss out on the opportunity to take advantage of this fact."
---
This article was first published in Aegir Insights' intelligence newsletter, Beaufort.
Delivered straight to your inbox every Sunday, Beaufort will sharpen your market insight for the week ahead with exclusive commentary, analysis, and in-depth journalism delving into the talking points and technologies shaping offshore wind.
---