Though the marine renewables technology has struggled on its journey into industrialization, the sector's wider 'socioeconomic and energy system-level benefits' could change its fortunes as first multi-unit arrays start being built, Orbital Marine Power CEO Andrew Scott tells Darius Snieckus
Headlines in UK energy industry news coverage earlier this month were dominated by offshore wind developers' boycott of the UK's latest renewables auction – rightly seen as an existential threat to the world's second largest sector market. Less widely reported was the allocation round's award to tidal power, which has the potential to help usher the long-suffering sector into commercialization with the construction of the first full-scale arrays in British waters.
After awarding Contracts for Difference (CfD) to 40MW of tidal last year, UK allocation round (AR) 5 will underwrite another 53MW: SIMEC Atlantis' MeyGen, which will add 22MW of new capacity to the Scottish project, along with Magallanes Renovables projects off Scotland and Wales, and HydroWing Verdant Isles, and MOR Energy pilots all off Wales.
The AR5 CfD winners, which were given a strike price of £198.00/MWh ($246/MWh) with expectations that first arrays will be generating "from 2027 onward", included Scotland's Orbital Marine Power, developer of the pioneering O2 tidal energy prototype, which will build multiple units now for its expanded Eday demonstrator at the European Marine Energy Centre (EMEC) test site in Orkney Islands, as well as its nearby 30MW Westray Firth project.
Andrew Scott, CEO of Orbital, which has been running its innovative O2 prototype at EMEC since installation in 2021, sees the company's second CfD having "layered" benefits. "For Orbital, it means we are able to add further capacity on top of what we secured in AR4, and this adds a degree of volume, consistency. And the delivery windows of CfD auctions now are quite helpful from a supply chain and manufacturing perspective," he says.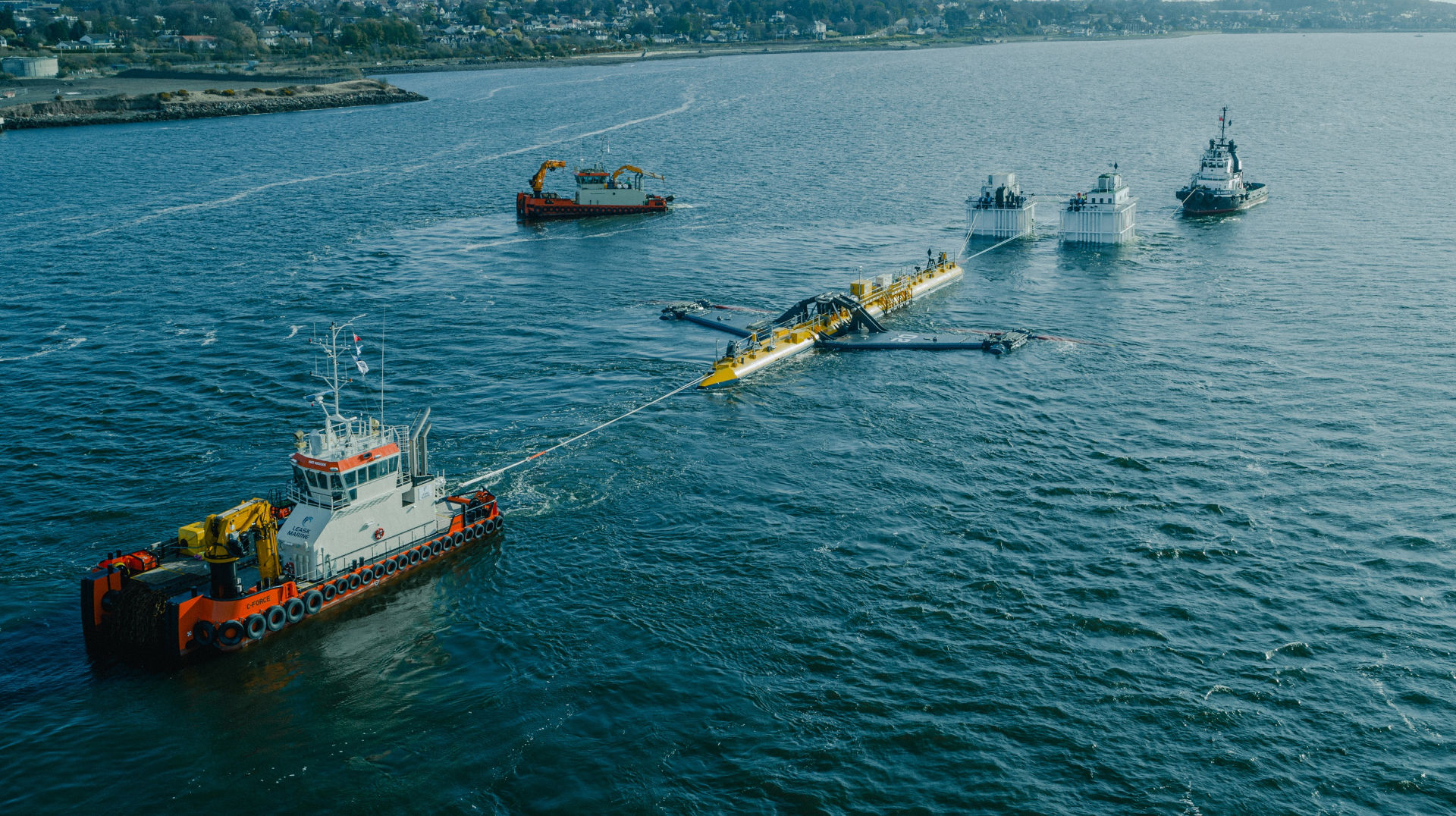 "We've worked for over 15 years now to get to a place where we've got a product that we can put into series production. And that's the real wider benefit here now with the AR5 award. It gives us that mandate to industrialize, to move past – for both technical and economic reasons – the continuous evolution of our core technology," says Scott.
"It's been a long journey and one of the biggest learnings is that in the R&D space you can get pulled into thinking [mainly] how engineering design can take cost of your system. But, take a step back, and it's apparent that what really takes cost out is fixing your design and then establishing 'repeatability', because with that comes significant volumes of empirical data – and [greater] confidence in the finance and insurance communities."
Central to repeatability for Orbital – and the fledgling tidal power sector at large – will be developing the supply chain needed to build the lead-off multi-unit arrays. Its second CfD will make possible the construction of six O2s, presenting the company will the opportunity to "move on to the next level", says Scott.
'Moving tidal to the next level'
The new CfDs will press the button on O2s for EMEC's Fall of Warness berth off the island of Eday – a project for which Orbital will be applying for a CfD in a future allocation round – and to progress longer-term plans for the 12-machine Westray array, presently under an 'option agreement' with the Crown Estate Scotland that enables the developer to advance key site assessments and consenting activities. Orbital also has projects off Anglesey, Wales, and the UK's Isle of Wight.
"We are cracking on. [UK electricity market regulator] Ofgem recently approved the 'needs case' for a 225MW grid upgrade to the Orkneys, so that's a step forward. On the supply chain side, we are gearing up to start series production [of O2s for these projects]. The questions now revolve around where we 'set up home' [build a factory] and what kind of volumes of manufacturing are we going to place with contractors there? And to future proof for that volume."
"There is increasing convergence on what ocean renewable energy industries are going to really look like in the not-too-distant future – 'convergence' is sometimes another word for 'commercialization'."

Andrew Scott
CEO
Orbital Marine Power

Scott emphasizes that old-model industrial project-by-project procurement practices won't work for tidal or other offshore renewables sectors: "We are not approaching this from a conventional UK procurement perspective. We want to establish a manufacturing supply chain here. And so, it's more about trying to target through-puts."
The manufacturing volumes "might seem very modest in comparison to things like offshore wind", he adds. "But one of the big value propositions that tidal is making here in the UK context is the industrial part. The sector is well-positioned to make the most of its relative 'low volumes' because we have already demonstrated [the Scottish industrial supply chain] has the capacity and the capabilities to do this [build and install tidal units].
"Net-zero decarbonization is the biggest opportunity for entrepreneurs the world's ever seen. It's a low-risk hurdle to enter into tidal because the factories for turbines don't exist yet. The opportunity is there for a local supply chain to be created."
The rise of the sea-based wind power in the UK – if lately embattled by macroeconomics and misconceived allocation rounds – is already spurring supply chain development in coastal construction yards around the British Isles. For tidal, this might be a boon – new manufacturing infrastructure that could 'slot in' smaller tidal projects while between gigascale offshore wind contracts – or a complication, if demand for fabrication of offshore wind foundations, fixed and floating, as well as assembly and marshaling work, squeeze it out.
'We are little more nimble-footed'
"There are pros and cons," says Scott. "But as we are seeing it now, because tidal is looking at lower capacities, we can be a little more nimble-footed that some of the big [offshore wind] projects that have huge risk associated with them."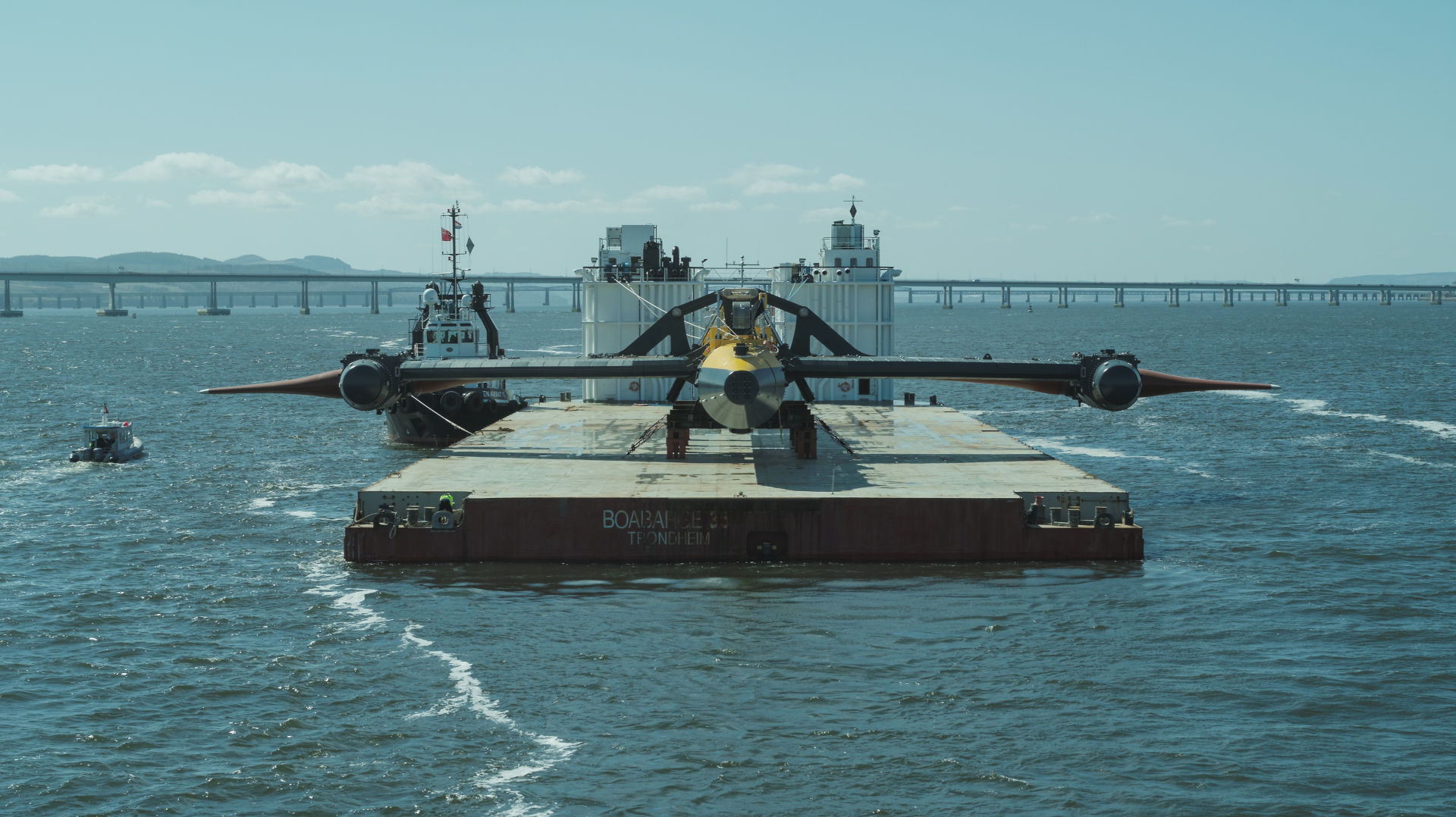 The O2 prototype has been doing its part to reduce technical risk. Two years in the water EMEC, the cross-shaped, 'ocean-riding' machine has been feeding-back a torrent of data, helping to verify design and engineering improvements made to the forerunning SR2000 concept, while keeping front of mind that the technology needs to "also be a first-of-kind system for the supply chain" that will now start manufacturing the units in sequence.
UK tidal power has battled through choppy market waters from its genesis – made harder by continually weaker government backing: under the old renewables obligation credit support scheme, it was getting around £350/MWh in today's money, 30% more than in this latest CfD.
But while Scott believes government must open its mind to viewing the sector in context of a decentralized energy system, he underlines that "as a company or the tidal sector or the bigger renewables industry, net-zero will not be delivered out of charity, it will be based on business cases".
"The penny is dropping [with the UK government] that from a systems perspective, decarbonization is going to generate huge challenges and is going to require a portfolio of [clean energy] solutions on the demand and supply side not just individual technologies," he says.
"Tidal has a complementary role and a different value proposition in weaving together systems benefits and supporting security of supply not just of energy [production] but also of manufacturing.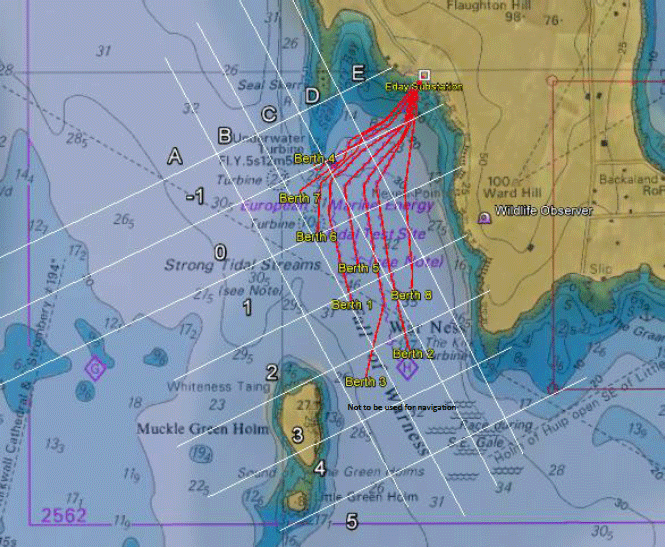 "The government must think beyond CfDs – which have largely worked until this point – and in a more sophisticated, integrated system-level way."
'Niche' or 'premium' techology?
Scott doesn't disagree that tidal "to some will always be seen as 'niche' and 'small-scale'", but adds: "In some ways that may be true, but I prefer to think of it as 'premium' because while we might be talking lower volumes of capacity than offshore wind but tidal could generate very different socio-economic benefits to the UK – and systems benefits too".
Some 15 years after first tidal prototypes were lowered into British waters, with multi-unit demonstrators now laying the foundation for the industrialization still tantalizingly on the horizon, there would appear to finally positive views on the bankability of the technology. But will this make up for lost time?
"With the climate crisis, it's all 'lost time'," says Scott. "That said, the industrial drivers [for tidal] are stronger now. Delivering industries into industrialization is sometimes about timing as well as technological and economic proposition. The timing is much improved too as is the understanding from government and the investment community that it is not just about a single LCOE [levelized cost of energy] metric.
"There is increasing convergence on what [ocean renewable energy industries, including offshore wind, tidal and wave] are going to really look like in the not-too-distant future. And we are building an ecosystem of investors, [and] building new supply chain. 'Convergence' sometimes is another word for 'commercialization'.
---
This article was first published in Aegir Insights' intelligence newsletter, Beaufort.
Delivered straight to your inbox every Sunday, Beaufort will sharpen your market insight for the week ahead with exclusive commentary, analysis, and in-depth journalism delving into the talking points and technologies shaping offshore wind.
---
Interested in getting the latest insights on developments in the global floating wind market? Aegir Insights releases a Floating Wind Intelligence quarterly to subscribers, including the tracking of projects, partnerships and high-quality market forecasts based on our extensive industry experience in market and project development. Reach out to us to learn more about Aegir Insights' floating intelligence
---