North America's political leaders should take inspiration from the nation-building industrial projects of the past as they figure out how to rapidly expand infrastructure needed for the energy transition – including a US-Canada offshore wind-powered transmission 'backbone' in the Atlantic, writes Abby Watson of Groundwire Strategies
By Abby Watson
One-hundred-and-seventy Empire State Buildings-worth of iron girders. That's how much structural steel was estimated to have gone into building the US interstate highway network, according to a summary from the US Department of Commerce Bureau of Public Roads back in 1961, which called the National System of Interstate and Defense Highways "the greatest peacetime public works program in history". During the same period, Canada undertook to construct the TransCanada highway – now one of the longest national freeways in the world.
The US and Canada have clearly been capable of building big things in the past, but are these feats of interregional and intergovernmental cooperation still possible today?
There is a global shift is underway, accelerated by Russia's invasion of Ukraine, and with it a wholesale re-alignment of geopolitical axes will bring new opportunities and challenges. The US is poised to capture substantial investment in new industry thanks to provisions included in the Biden administration's Inflation Reduction Act (IRA) – 46 new or expanded clean energy manufacturing facilities have been announced since the bill's passage last year, according to the American Clean Power Association. However, the future global competitiveness of these and other domestically manufactured goods will require access to abundant, cheap, emissions-free energy.
Despite pushback on ESG reporting in some sectors, the transition to a carbon-free future is baked in, as the US IRA or initiatives such as the EU's Green Deal Industrial Plan and Carbon Border Adjustment Mechanism show. Industrial economic gains will go to whichever countries are able to supply sufficient low-cost clean energy to their manufacturing sector.
'North American leaders have a lot to gain and very little to lose by hatching continental-scale solutions for new clean energy infrastructure'
Continental-scale solutions are how nations can compete in this new dynamic, and this must include how we build new energy infrastructure. The EU's coordination of their energy markets, and industrial policies that benefit the bloc rather than individual members, are a huge competitive advantage in the race to build carbon-free industry.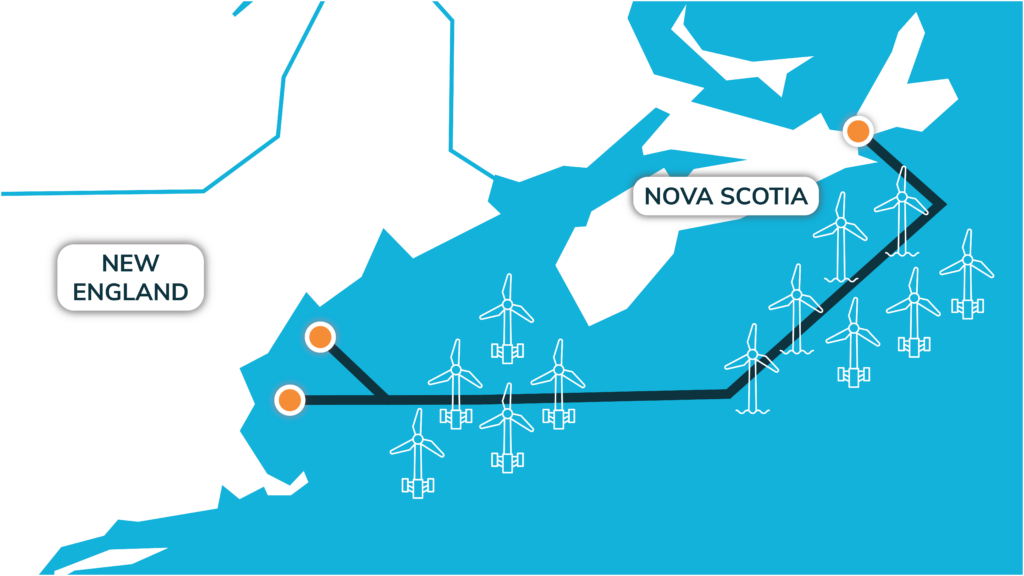 North American leaders have a lot to gain and very little to lose by hatching this scale of solution for expanding its clean energy infrastructure. The Coalition for a New England – Maritimes Offshore Energy Corridor (NEMOEC) has proposed one such megaproject: a roughly 1,000km shared subsea transmission backbone to link clean energy resources across Atlantic Canada and New England, delivering renewable energy directly to population centers while reducing disruption in the marine environment.
The windfall from just 2GW of power transmission could be transformative, totaling between $600-$780m a year in system benefits – which factors in capacity, grid balancing, greenhouse gas emissions reductions, market integration and interconnection value, but not direct economic development. Assuming an 8% capital recovery factor, these benefits alone would support an expected cost of $6-$8bn. The associated economic benefits extend well beyond these quantified system benefits and are expected to scale as additional 2GW blocks of energy transfer capability are added to the corridor.
The decarbonization journey can be additive, with upwards of $300trn likely to be invested globally by 2050 according to the McKinsey Global Institute. When the US shares almost 9,000km of border with its oldest and closest ally, collaboration with Canada on expanding a clean energy grid makes plain sense.
The US and Canada have a historic opportunity to secure their role as global leaders in manufacturing and technology – collaborative investments in the grid paired with clear incentive to build new renewable generation is a crucial bulwark against de-industrialization.
Leaders in both countries should take a long, hard look at the Ostend Declaration – a North Sea call-to-arms for offshore renewable energy production that would see a combined ambition of 120GW by 2030, up from about 30GW now, and 300GW by 2050 – and decide how they will explain to future generations that they couldn't be bothered – especially when we have beacon opportunities such as NEMOEC ready to help light the way.
Abby Watson is founder and president of Groundwire Strategies, a US energy planning consultancy. She previously held senior executive roles at Mainstream Renewable Power and wind OEM Siemens Gamesa
---
Every week in Beaufort, Aegir Insights' intelligence newsletter, industry thought leaders write exclusive opinion pieces covering hot-button topics in the offshore energy transition.

Delivered straight to your inbox every Sunday, Beaufort will sharpen your market insight for the week ahead with exclusive commentary, analysis, and in-depth journalism delving into the talking points and technologies shaping offshore wind.
---