Semi-subs are everywhere these days.
Aegir Insights' network analysis shows a large number of industry players clustering around semi-sub concepts for floating wind foundations, and recently Equinor joined the race when it announced its "Wind Semi".
As more early data emerges on the most dominant floating wind foundation, the steel semi-sub, it gets interesting to explore floater mass in comparison to turbine rating, to understand what the future holds for 15MW+ sized floaters.
As part of Aegir's Big Float series, we dug deep into consents and company disclosures to see what the emerging data says about floater mass versus turbine rating.
The early data suggest steel floater tonnage might increase only ~60% when doubling turbine capacity from the latest projects installed today, based on a linear line of best fit. This is indicative of the large value of further scaling up – more megawatts per ton of steel. If this trend of more MW per ton of steel was linear, scaling up turbines would always result in significant benefits of scale, but life is rarely linear.
Scaling up results in diminishing returns as turbines get larger
To shed light on one factor which may mean that scaling up may not always be equally beneficial, we consider how two different trendlines, linear and power, represent the future of 15MW+ floating wind turbines.
Comparing the linear and power lines of best fit shows the uncertainty in predicting future upscaling, with the range of difference indicated by the area shaded blue.
The power line of best fit indicates steep improvements due to benefits of scale with initial upscaling. This is because a certain minimum-size for the floater is required. But eventually, we see diminishing returns as turbines grow very large and may need significantly bigger/heavier foundations.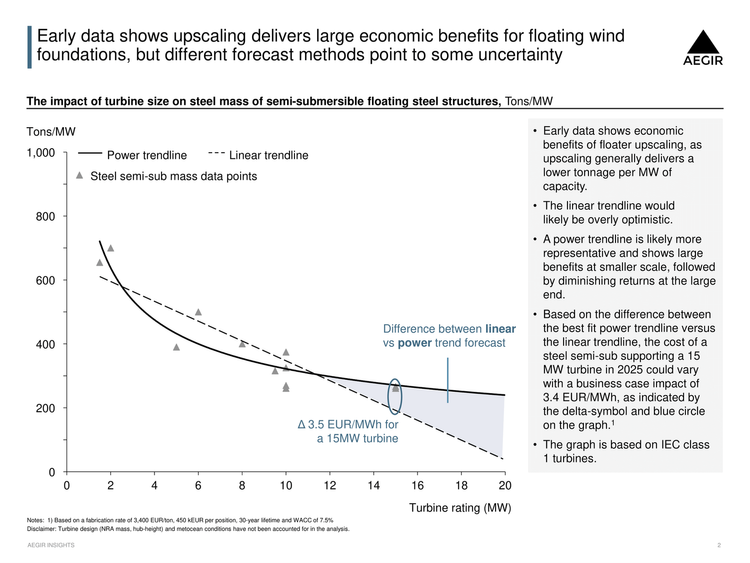 This is likely more representative of reality. Projected out to future 15MW turbines, the difference between these two scaling approaches points to an uncertainty of ~3.5 EUR/MWh for a representative commercial scale project.
As more data emerges, it will shed more light on floater scaling and the relative competitiveness of floating and fixed bottom - but there will always be a degree of location dependence.
Do you want to know more about floating wind and the technology behind? Reach out to learn about Aegir Insights' floating wind intelligence service.