New York has rejected petitions by BP-Equinor and Orsted to renegotiate strike prices on already-agreed power purchase agreements, leaving over 4GW of projects – and the state's climate ambitions – in limbo. Signe Sørensen delves into what might happen next
What's the news?
New York's Public Service Commission (NYPSC) rejected petitions by offshore wind developers including BP-Equinor and Orsted to adjust strike prices in already-agreed power purchase agreements (PPAs) upward in the NY1 and NY2 solicitations to account for interim inflation and other macroeconomic factors impacting the viability of four projects planned for the New York Bight with a total capacity of 4.3GW.
What's the backstory?
BP-Equinor had requested relief that – according to New York State Energy Research & Development Authority (NYSERDA), the authority undertaking offshore wind auctions on behalf of the NYPSC and New York – would result in 35-66% higher strike prices in PPAs made in response to solicitations in 2018 for Empire Wind 1 and 2020 for Empire Wind 2 and Beacon Wind 1. Orsted had requested what would amount to a 27% increase of the strike price in its 2018 PPA for Sunrise Wind 1.
NYSERDA's response to the petitions outlined the various implications of either accepting or rejecting them, while also presenting a range of compromise solutions based on using the inflation adjustment mechanism built into state's ongoing third solicitation, NY3 – results for which are expected any day now – to adjust the strike prices to higher levels, but without accepting all complaints from the developers. The results would generally have been strike prices higher than the original, but not as high as the levels requested by developers.
The NYPSC ultimately elected to turn down the petitions for two main reasons: 1/ protecting ratepayers from higher-than-anticipated impacts on electricity bills if the PPAs were adjusted upwards, and 2/ to preserve the integrity of the competitive process by not retroactively altering PPAs.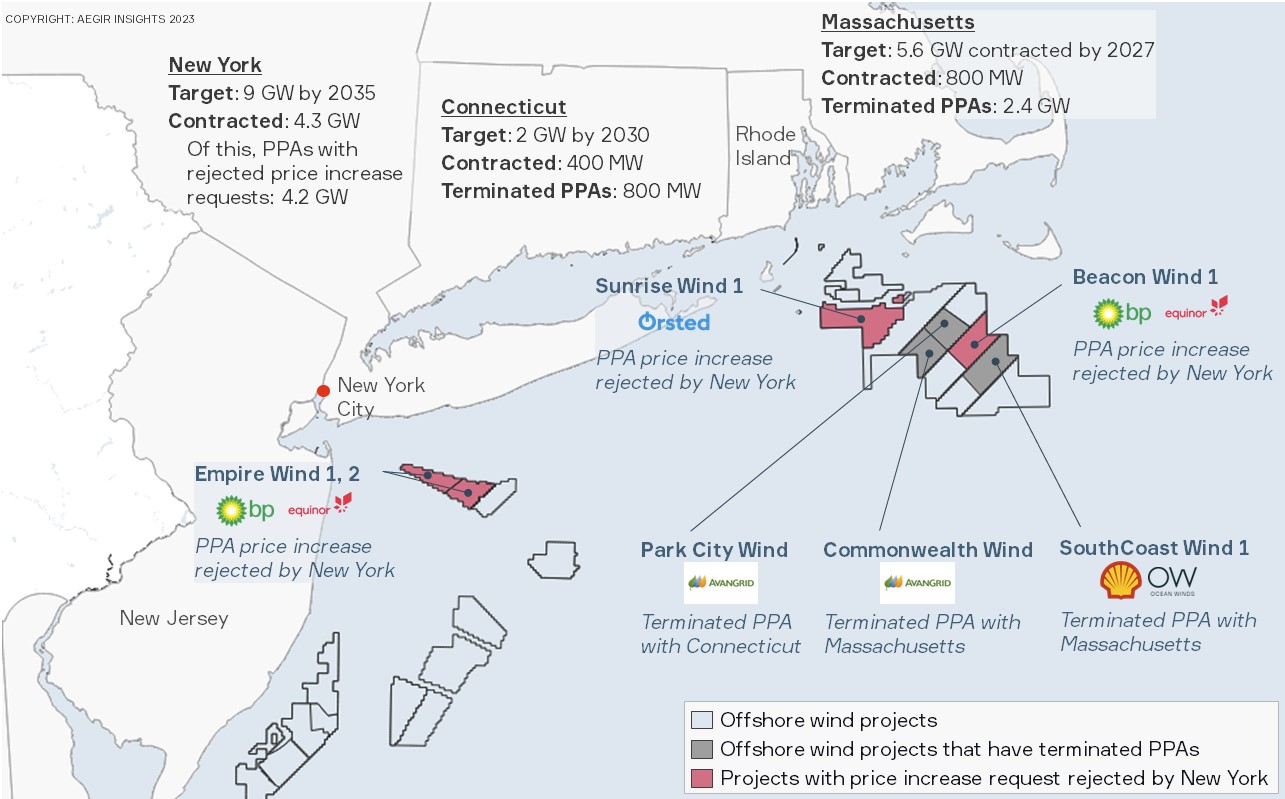 The director of New York's department of public service, Marco Padula, added that a formulaic approach to increase payments to developers across the board would not be "just and reasonable" to bidders that failed to secure PPAs in those same rounds and would not account for developers' varied efforts to deal with inflation.
NYPSC chair Rory Christina reportedly said: "By rejecting this relief, we signal to every vendor that our contracts, our commitments, are worth the paper they are written on [and that] ratepayer funds are not an unlimited piggy bank for anyone's disposal."
Where does this leave New York's offshore wind build-out?
This is a major set-back for New York's offshore wind deployment and wider energy transition plans. The state is targeting 9GW of wind plant being installed in the New York Bight by 2035 and was almost halfway there prior to this news. If all four projects impacted by the NYPSC decision end up terminating their PPAs, New York will be left with only Orsted's 132MW South Fork in its portfolio and will need to rapidly beef-up its solicitation schedule to contract nearly the whole 9GW in the next few years.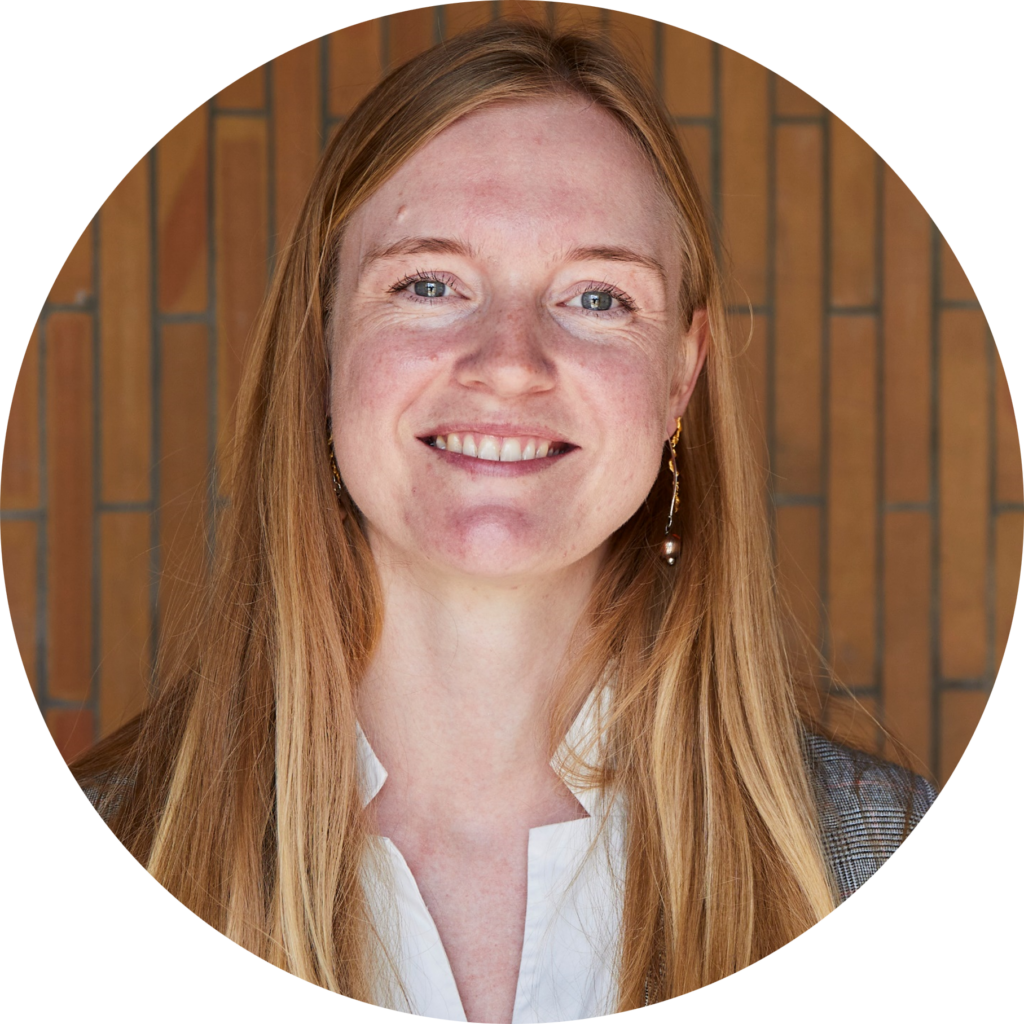 'If PPAs for Empire Wind 1 and 2, Beacon Wind 1 and Sunrise Wind 1 are terminated, they need new deals. Being well-progressed projects, they could be a boon to other states' clean energy ambitions.'

Signe Sørensen
Senior Research Analyst - Regional Lead Americas
Aegir Insights

NYSERDA has already put forward a 10-Point Action Plan that promises "an accelerated renewable energy procurement process for both offshore and onshore renewable energy projects" aiming to "backfill" any contracted projects which are terminated.
What could termination of these PPAs mean for the US Atlantic offshore wind PPA market?
New York lies at the heart of the most active offshore wind market in the US with neighboring states New Jersey, Connecticut, Rhode Island and Massachusetts all racing to meet their own deployment targets with projects in the same patch of the Atlantic.
If the four New York PPAs are terminated, the projects – Empire Wind 1 and 2, Beacon Wind 1 and Sunrise Wind 1 – will need new PPAs. Being well-progressed projects, they could be a boon to other states' clean energy ambitions. Their relative maturity would also make them tough competitors to other offshore wind projects in the region looking for PPAs – though of course, some of the maturity would be lost in a reconfiguration of the project to fit another state.
What's next for New York?
For now, it is a waiting game. Will BP-Equinor and Orsted terminate their NY1 and NY2 PPAs as expected? Given similar project cancellations in Connecticut and Massachusetts, it looks likely. NYSERDA is doubtless working flat-out to prepare an announcement on the winners in the ongoing NY3 PPA auction to deliver some upbeat news for the industry and New York's climate targets at this difficult time for the industry and re-affirm the state's commitment to offshore wind. NYSERDA chief executive Doreen Harris has already said that the agency is "unequivocally... committed more than ever to advance this important work on behalf of New Yorkers". Watch this space.
Aegir Insights has just published a subscriber-access Market Insights report, analyzing the implications of the PPA troubles in New York – both for New York, the neighboring states and the wider US sector.
Do you want to keep up to date on the many offshore wind auctions coming around the world – what the volumes will be and when the auctions are starting? Aegir Insights releases a monthly auction intelligence package for subscribers, including an updated auction database and timeline. Reach out to us to learn more about our intelligence offerings.
---
This article was first published in Aegir Insights' intelligence newsletter, Beaufort.
Delivered straight to your inbox every Sunday, Beaufort will sharpen your market insight for the week ahead with exclusive commentary, analysis, and in-depth journalism delving into the talking points and technologies shaping offshore wind.
---