Deepwater plays holds great potential but should the industry re-baseline expectations on build-out and costs?
Previous announcements anticipated commercially competitive floating offshore wind across many markets before 2030, but this scenario is not realistic due to lack of route to market at current prices, and supporting infrastructure not being ready for delivery at commercial scale. In essence, while floating wind technology holds great promise, industry learnings show that the practical implementation requires a more measured outlook on market capacities and cost developments.

These learnings include:
There is no such thing as a universal LCoE
Site conditions across the floating markets will be an important factor to consider in the expected price drop. When looking at all announced projects, it is clear that some markets are likely to be cheaper in the future due to better natural resources.

Early innovators will carry the costs of immaturity
In the near term, the most competitive markets for floating wind are in Western Europe, thanks to favorable site conditions and visibility on support for scale up. This is closely followed by the Asia-Pacific region. Other regions, referred to as fast followers, are likely to have commercial activity closer to 2035 and will benefit from the learnings of early innovator markets and may be able to achieve relatively quick cost out.
In conclusion, the anticipated cost reductions from economies of scale seem to be further away than expected and now might be a good time for the sector to re-evaluate its expectations.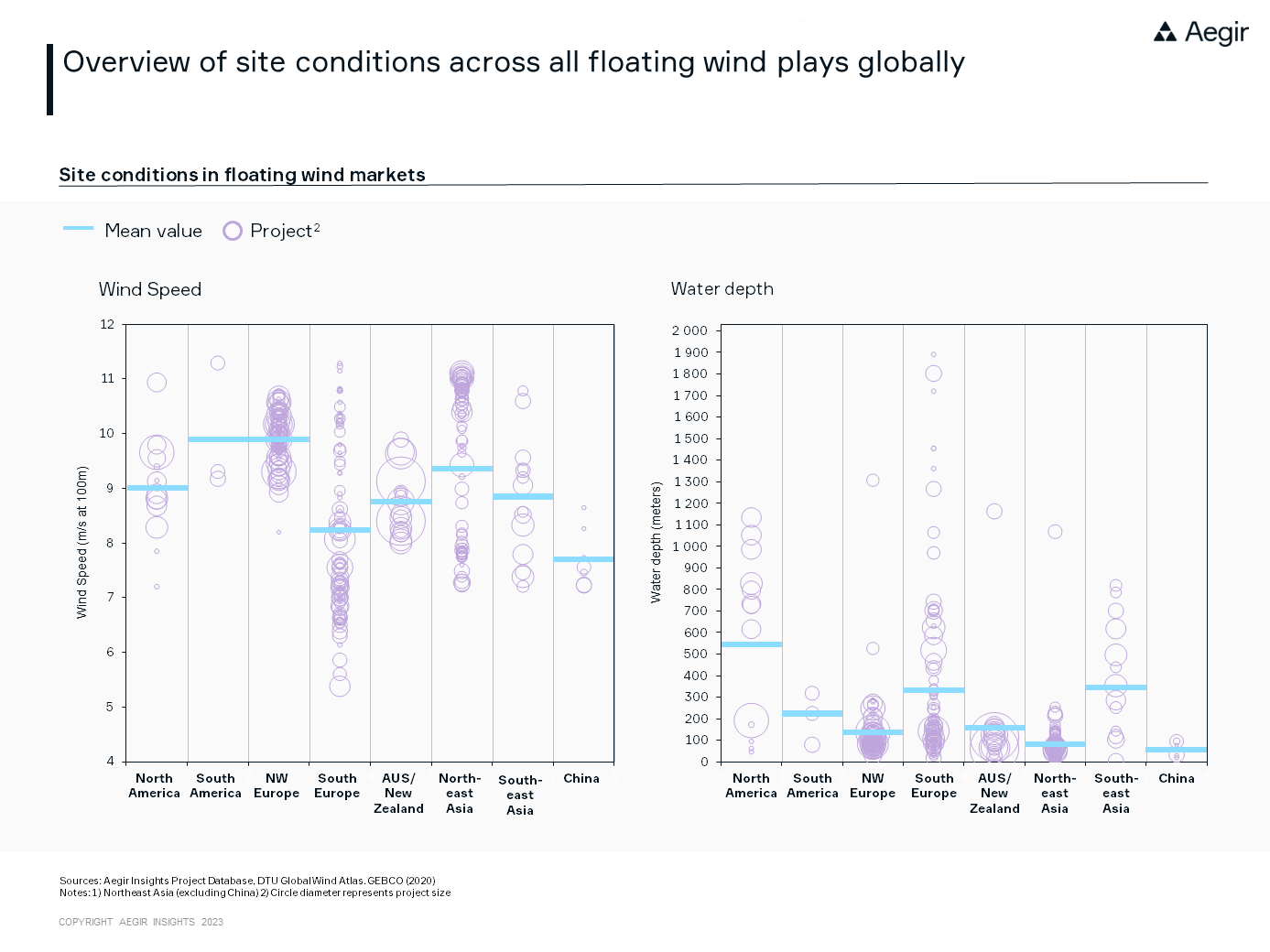 Global floating wind cost forecast by Aegir Insights
Aegir Insights has just published a Market Insights report to our subscribing clients, forecasting the cost of floating offshore wind globally in the next decades and addressing regional site conditions based on data in Aegir's project list of all announced offshore wind projects worldwide.
Aegir Market Insights are short, stand-alone intelligence pieces diving into significant events in the offshore wind market, giving you more context around and understanding of critical market developments.
Reach out to us to learn more about Aegir Insights' market intelligence offerings.