Switching on the first deepwater wind turbine to flow power to the Spanish grid has meant overcoming superstorms, Covid and port strikes, and has cleared the way, Saitec COO David Carrascosa tells Darius Snieckus, for the start-up to 'concentrate its energy' on next-scale projects
The voyage in bringing a new technology from spark of conception to market-readiness is fraught enough. But add superstorms, a pandemic, supply chain stoppages and strikes in the port where the design's prototype was being built, and the scale of floating wind pioneer Saitec's accomplishment in getting its first full-size unit flowing to the grid becomes clearer.
The Spanish start-up, one of a new-generation of floating wind technologists looking at mass production-minded concepts rather than borrowing-in engineering used for oil & gas platforms, is in the final weeks of commissioning of a 2MW version of its Sath (Swing Around Twin Hull), a design founded on a two-pontoon concrete hull that 'weathervanes' with the wind and waves, at a testing center in the Bay of Biscay.
Getting the flagship online, however, not only had the "usual" financial and engineering pressures facing an industrial prototype, Saitec COO David Carrascosa tells Beaufort, "but also many external challenges: Covid, transportation strikes, supply chain disruption, extreme inflation – things no one could expect.
"But we made it – and we have demonstrated not only that the technology can be built economically and installed offshore, but that we can do [these projects] with local contractors – 75% of [DemoSath's] were within 25km of the port of Bilbao" where the prototype was built with backing from German power giant RWE.
Hook-up to the mooring lines in 85 meters of water at BiMEP R&D testing site and connection of the main export cable linking the demonstrator to the Spain grid – a first for floating wind – is now complete, with the DemoSath unit slated for 24 months of seatrials.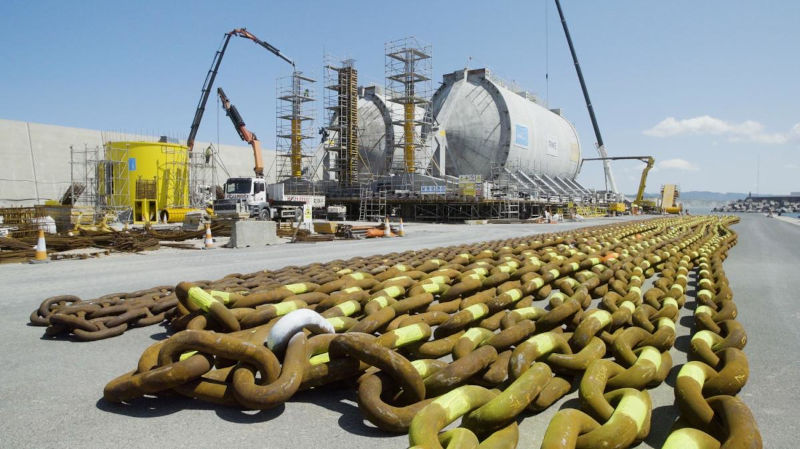 Following on from Saitec's part-scale BlueSath unit, trialed in 2020 off Spain, DemoSath – which last week brought in Japanese utility Kansai Electric as a strategic partner and co-investor – is the key final step before the Sath design is floated out for multi-turbine arrays off Spain, with the Green Energy Research for Offshore Atlantic (Geroa) and Medfloat projects, both around 45MW, on the fast-approaching horizon.
"The BlueSath project was a great stride [forward] because we were moving from scale models in wave tank to part-scale but in a real offshore environment," says Carrascosa. "It took us to a different level. DemoSath adds its own value now, as we look to multi-unit arrays of Saths. Demonstrating technology [beyond DemoSath] is now about proving it at larger scales, so that is where are ambitions and energies are focused."
RWE's investment in the DemoSath project – "both financial and technical"– as Saitec looks ahead to pre-commercial size arrays, has, he notes, "provided… the benefit of [the developer's] intensive and extensive experience in offshore wind in recent years.
"From design through construction to contracting, health and safety, and on into marine operations, we have had some many learnings. And it has been a win-win collaboration for RWE I think, in terms of knowledge gained [about the Sath design]," says Carrascosa.
'We see how many variables can impact the financials for a project. Optimal industrialization is important now in bringing costs down further. We are at a very interesting point in the history of floating wind.'

David Carrascosa
COO
Saitec

Project teams for Geroa, being built near DemoSath in the Cantabrian Sea, and Medfloat, sited off Girona in Catalonia, are moving ahead with seabed surveys and other elements of their environmental impact assessment work, to clear the way for construction.
Saitec currently expects to switch on the two arrays "late in 2025 or early 2026", ahead of stepping up to supply platforms to first giga-scale commercial projects in southern Europe, where governments including Spain's and Portugal's have plans for auctions for as much as 10GW of deepwater wind plant.
"Commissioned commercial projects by 2028 might be a bit optimistic. We are seeing delays in France [in the construction of first pre-commercial floating arrays] and certain postponements," says Carrascosa.
"We really see how many variables can impact the financials for a project. So we have to focus on where we can have some control: improving the construction process, demonstrating the benefit of decoupling fabrication of pre-cast modules for a floater with a holistic approach to assembly [of each unit] as a second process. Optimal industrialization is really important now in bringing costs down further.
"We are at a very interesting point in the history of global floating wind," he adds.
Saitec's home patch, Southern Europe, is emerging as an important play for regional and international wind developers scoping out a resource which, according to Aegir figures, could be lead to construction of some 75GW of plant by 2030 – though power prospects are not production on to the grid.
"We need to see movement from 'roadmaps' to regulatory frameworks and dedicated [floating wind] auctions," says Carrascosa, noting the current post-election political limbo in Spain has sent a slight chill through the sector and that the "Portuguese [government] strategy needs to now become more of reality".
"Governments need to present binding strategies for these capacity objectives, with clear step-by-step processes. This clarity will help the industry make the investments in our supply chain, in infrastructure, in ports, and we can't do that without this, just like we can't make commitments without a sense of the scale of coming auctions."
Though the global floating wind pipeline has swollen to 350GW, according to Aegir's latest calculus, it is currently crossing through choppy waters created – just as was Saitec's experience with the DemoSath unit – by a confluence of wavering government support, macro-economic uncertainty, regulatory exposure, and shifting financial landscapes that together threaten to capsize progress.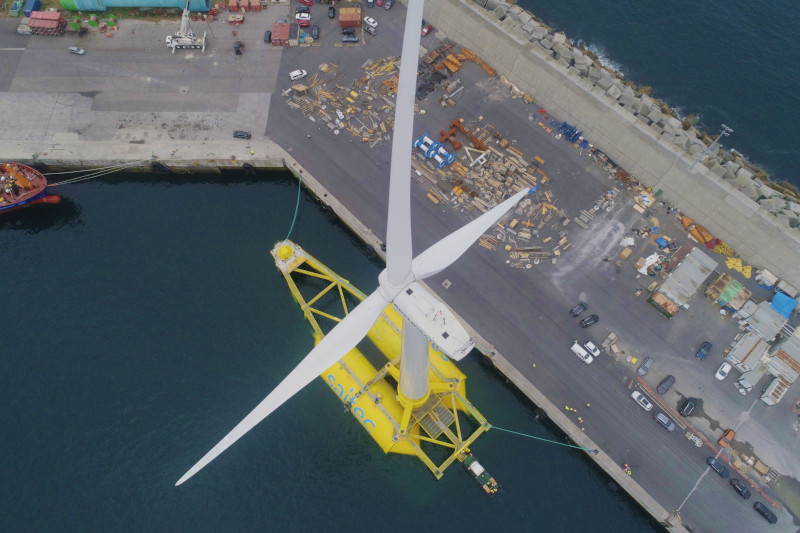 "The opportunity of these challenging times is in realizing that it is time to take strong steps as an industry but also to open our eyes to the fact that some players that are aiming to build a 500MW-1GW floating wind farm are simply not being realistic," says Carrascosa.
"We shouldn't be building pre-commercial projects for a dozen years, but they will provide a smoother way of bringing along all the main stakeholders in society… and get them to understand the technology is proven, the availability of power is there, we will see the huge investments needed to unlock the sector and its supply chain.
"We have high ambitions, but these intermediate steps will help in many ways," he says. "Yes, we need to accelerate the global floating wind build-out around the world, but we need to do it on strong foundations."
Interested in getting the latest insights on developments in the global floating wind market? Aegir Insights has just released the subscriber-access Floating Wind Intelligence package for Q2 2023, including the tracking of projects, partnerships and high-quality market forecasts based on our extensive industry experience in market and project development. Reach out to us to learn more.
---
This article was published as part of Aegir Insights' intelligence newsletter, Beaufort.
Delivered straight to your inbox every Sunday, Beaufort will sharpen your market insight for the week ahead with exclusive commentary, analysis, and in-depth journalism delving into the talking points and technologies shaping offshore wind.
Sign up for free here
---