As US Wind's plans for its Sparrow Point steel fabrication yard shape up to supply gigascale Atlantic wind arrays, CEO Jeff Grybowski spoke to Beaufort about past projects, present pressures and the federal permitting 'reforms' needed for a fast-approaching future
By Darius Snieckus
Few in the US offshore wind power industry have been more pioneering than Jeff Grybowski. The once-chief executive of Deepwater Wind, developer of the 30MW Block Island, the nation's first array, then co-CEO of global pace-setter Orsted's North America business, which has built up a 3GW project pipeline, he is now in the top job at US Wind, a potentially market-shaking independent with the ambition of building multiple gigawatts of projects in the Atlantic off Maryland.
But Grybowski's long track-record in a sector that the President Joe Biden is counting on having 30GW in operation by 2030 also means he's becoming a paragon of patience. For though the promise of the US offshore wind vision is undimmed, the nascent sector has had to fight for every inch of progress since the Cape Wind project was stopped more than a decade ago. And continues to, as the regional offshore wind supply chain, including US Wind's planned Sparrow Point fabrication facility, slowly takes shape with first utility-scale projects getting steel in the water, against a industrial backdrop of inflation-driven market turmoil and the wider global energy crisis.
"I take a very broad view [of the state of the US offshore wind industry]. Maybe it's in my nature since I have been doing this for a while and remember too-well the dark times when Cape Wind was foundering [in 2015]. To me, these are very bright days. We've made remarkable progress," says Grybowski, pointing to construction now being underway at both the 800MW Vineyard Wind 1 off Massachusetts and the 132MW South Fork off New York.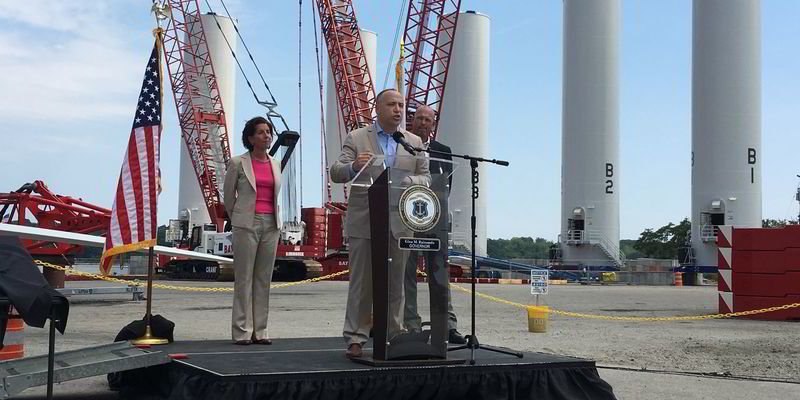 "There are some very notable accomplishments we are now seeing in terms of project permitting approval [clearing the way for new offshore wind developments] and hundreds of millions [of dollars] in investments coming in. That's very different from ten years ago when there were still question marks over whether this industry 'made sense' for the US," he says.
"Now there is a consensus. We are learning through development. It's not always a straight path. It is just like the fact that no project makes it to commercial operation with some setbacks – you overcome."
For US Wind, several recent events have been big boosts after the long yards pushing ahead with its 300MW MarWin and 800MW Momentum projects, won in 2019 and 2021 and now awaiting their draft environmental impact statement (EIS) from the federal Bureau of Ocean Energy Management (BOEM) to keep to a scheduled 2024 start to construction.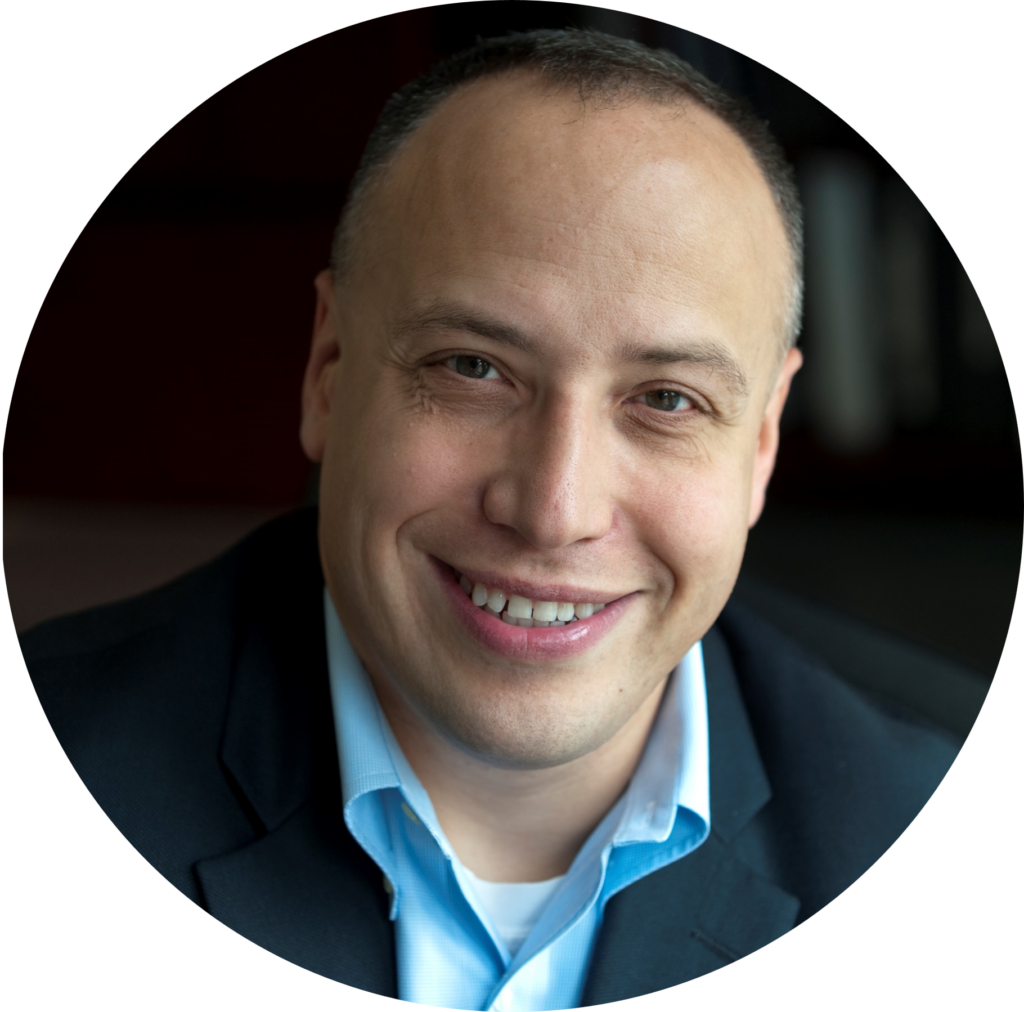 'I take a very broad view of the US offshore wind industry. Maybe it's in my nature since I have been doing this for a while and remember too-well the dark times.'

Jeff Grybowski
CEO
US Wind

This spring, the developer agreed on a long-term partnership with Spanish manufacturer Haizea to redevelop the long-defunct Bethlehem Steel Corporation site in the port of Baltimore – once the world's largest steel plant – into Sparrows Point Steel, to manufacture towers and monopiles for US Wind's coming developments.
"This is a massive step forward for these projects," states Grybowski, adding: "MarWin and Momentum Wind will not only ensure the effective delivery of [gigawatts] of clean, renewable energy for homes and businesses across Delmarva [the eastern coast peninsula made up of Delaware, Maryland and Virginia] but will also make the region a major hub for offshore wind development."
The other major light that was struck for US Wind's future hopes came with state's signing of the Power (Promoting Offshore Wind Energy Resources) Act, which more than quadruples Maryland's generation goal for sea-based wind power, from 2GW to 8.5GW, by 2031. The act also earmarks investments for transmission infrastructure and the supply chain in a state that was actually home to the very first – but ultimately failed – offshore wind project, Bluewater.
'A new day' for Delmarva offshore wind
"This sets a path for the people of Maryland to reap the benefits of huge amounts of clean energy in the coming years. It also tells the entire offshore wind industry globally that Maryland is back big time as a major player. Companies looking to invest in offshore wind have to seriously consider Maryland," states Grybowski.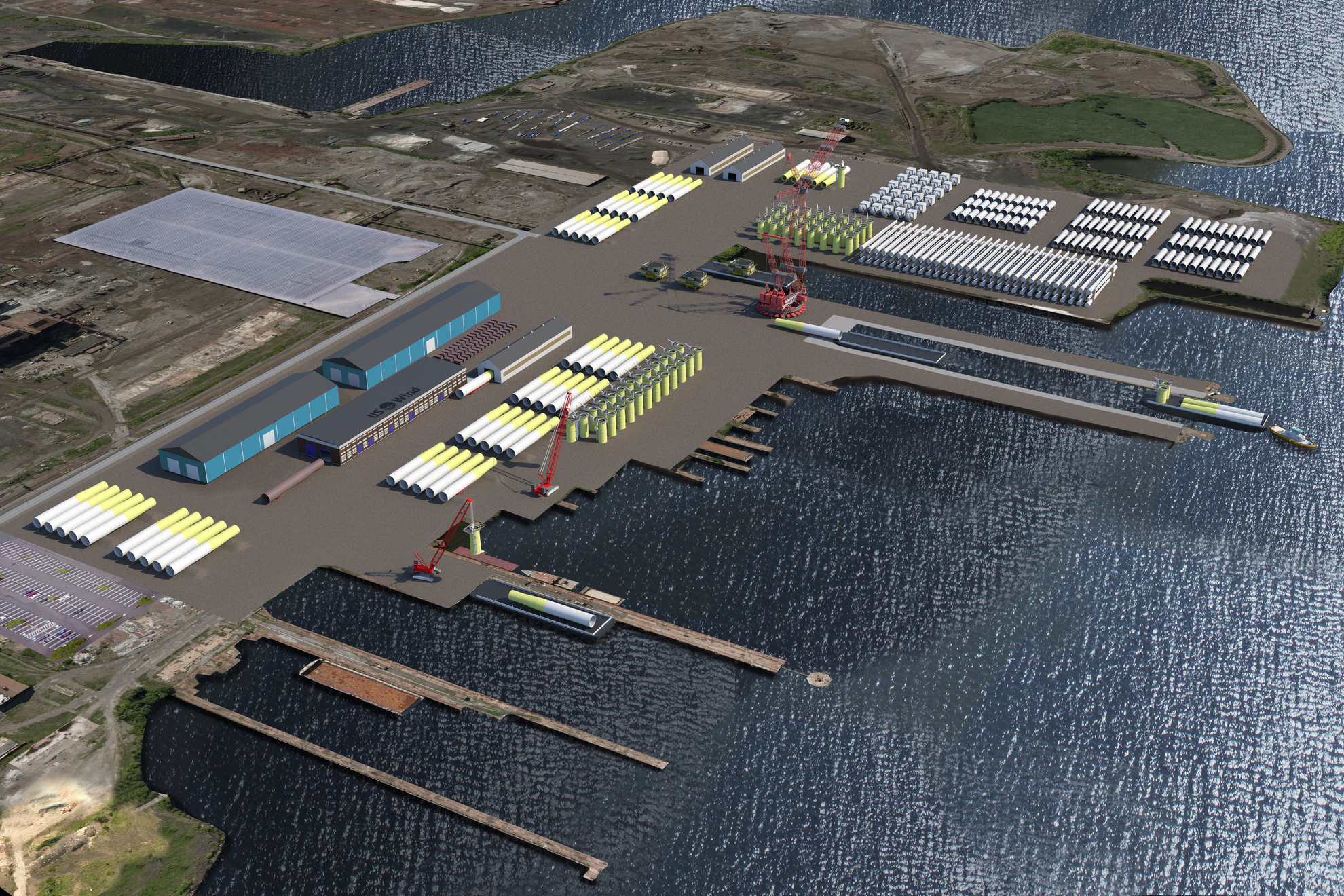 The higher target, which raises the state's offshore wind ambitions close to those of New York's industry-leading 9GW 2035 goal, marks "a new day for offshore wind in Maryland" for developers and the regional supply chain, he says.
"Plus, what has happened subsequent to our announcement with Haizea, of course, is that we have now received guidance from [the US] Treasury [Department] on qualification for domestic content tax credit bonus [for Sparrows Point]," adds Grybowski.
This incentive, part of the Biden administration's lauded Inflation Reduction Act, provides a 10% capital investment write-off for domestic factories that would save hundreds or millions of dollars for gigascale offshore wind projects. "It makes Sparrows Point a no-brainer for tubular steel in the US Atlantic," he says, noting that the facility will start focusing "towers first".
US Wind is not alone in backing – and banking on – Maryland's aspirations for offshore wind, with Orsted in April breaking ground on a multi-million-dollar foundation fabrication facility to supply its 1GW Skipjack project. The moves forward in the state harbinger wider supply chain development along the US east coast expected to underpin over 80,000 jobs and $25bn a year in economic output already by the end of the decade.
"Governor [Wes] Moore (pictured left touring the Sparrows Point site) has very aggressive clean energy and offshore wind ambitions. And he has made it no secret that he wants Maryland to be competing with the other East Coast states for projects and jobs and supply chain development. And he's backed up that talk with some concrete action," says Grybowski.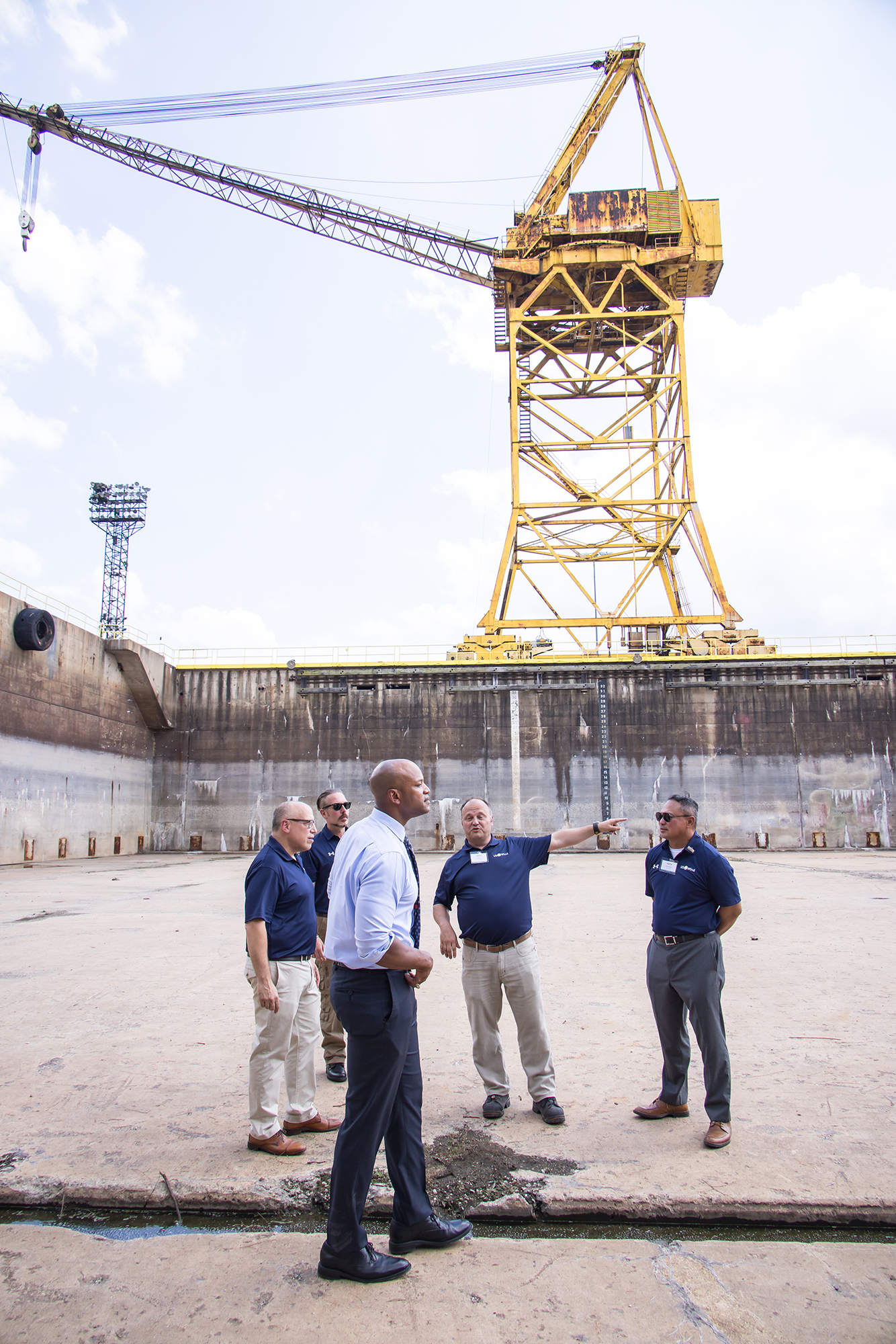 'Action' has never been more imperative the length of the US east coast for an industry "emerging out of infancy" as the US offshore wind sector is, he underlines. For though Grybowksi argues some of the "challenges ahead… will mean a re-imagining of some projects and some folks are going to have to put their thinking caps on", the long-term solutions are there to be found.
'Re-imagining' of projects needed
"Industry development ups and downs we should not allow to color our overall view, which I think is unchanged: there's an underlying rationale for offshore wind in the US, period. Long term investments are being made, we're seeing a number of industrial successes… The inflationary pressures and supply chain issues, those are some of the challenges that we need to address. And different projects will address them in different ways, whether it's renegotiating PPAs [power purchase agreements] as is currently happening on some, to renegotiating construction contracts or maybe slight delays in certain projects. But these aren't terminal problems, these are bumps in the road."
Grybowski may have the sanguinity that comes with two decades in the offshore wind sector but remains concerned that the project permitting needs "serious reform" if the US is to capitalize on the clean power production and economic development that is coming with the industry's expansion toward Biden's "national goal".
"For the first handful of projects being built the [roughly] 36-month period [between application for EIS and clearance to start construction] might be appropriate, but when we get to project seven, eight, nine? Offshore wind projects shouldn't take three years to permit. It is a stealth drag," he says.
Ultimately Grybowski is "still extremely optimistic" about both the industry and Maryland's evolving role in it. He says, "because we've now seen ourselves, as an industry, move through multiple market cycles, and seen governors and senators and presidents come and go, and through it all, the offshore wind industry continues to garner more support.
"The industry is starting to come out of its infancy and our ability to weather political changes at state and federal levels, and for industry to have its first projects now making such progress – despite the economic disruptions of the last few years – it's very hopeful."
---
Every week in Beaufort, Aegir Insights' intelligence newsletter, we talk to industry leaders about hot-button topics and developments in the offshore energy transition.

Delivered straight to your inbox every Sunday, Beaufort will sharpen your market insight for the week ahead with exclusive commentary, analysis, and in-depth journalism delving into the talking points and technologies shaping offshore wind.
---